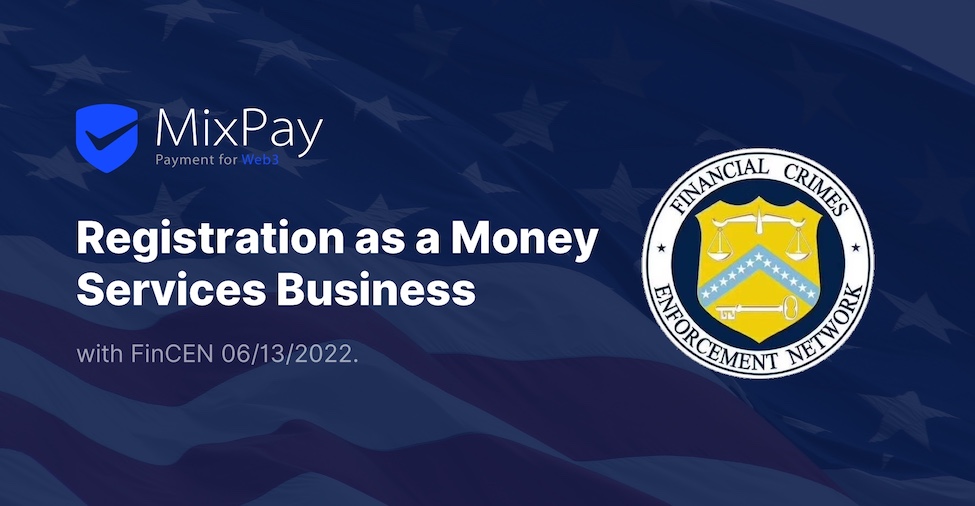 MixPay , zdecentralizowana platforma usług płatności kryptowalutowych zbudowana na Mixin Network , ogłosiła, że 13 czerwca 2022 r. otrzymała zgodę od FinCEN na prowadzenie działalności jako Money Services Business (MSB) w Stanach Zjednoczonych.
Wcześniej lokalne giełdy w Stanach Zjednoczonych i giełdy globalne, takie jak Binance i Huobi , z powodzeniem uzyskały licencję na oficjalne uruchomienie usług handlu aktywami blockchain dla amerykańskich użytkowników. MixPay to również zgodność zawsze na pierwszym miejscu. Uzyskanie licencji MSB pozwala MixPay legalnie prowadzić swoją działalność w Stanach Zjednoczonych i umożliwia Amerykanom łatwe wysyłanie i odbieranie płatności w kryptowalutach. Co więcej, MixPay rozszerza swój parasol regulacyjny dla partnerów i użytkowników, umożliwiając wprowadzanie i wyłączanie fiat dla zasobów cyfrowych.
MixPay, oparty na Mixin Network i Mixin Messenger , to kryptowalutowa bramka płatności, która obsługuje dowolne rozliczenia kryptowaluty i waluty fiducjarnej i jest przyjazna dla zwykłych użytkowników i programistów. MixPay może oddzielić płatność, wycenę i rozliczenie w warstwie bazowej, obsługiwać dowolną płatność portfelową i udostępniać trzy tryby rozliczenia: konto indywidualne, deweloperskie i konto z wieloma podpisami.
Zgodnie z jego hasłem:
MixPay , Płatność za Web3.
Setki sprzedawców offline i platform internetowych nawiązało współpracę z Mixpay, aby ułatwić otrzymywanie kryptowalut. Dla sprzedawców jest to tani sposób świadczenia szerokiej gamy usług bez granic. Dla użytkowników jest to łatwe w użyciu rozwiązanie płatnicze o wiele wygodniejsze niż większość innych metod płatności. MixPay ma na celu zapewnienie elastycznej bramki płatności Web3 z elastycznym interfejsem API. To, do czego jest zdolny MixPay, jest ograniczone jedynie kreatywnością jego twórców.
MSB, skrót od Money Services Business , jest zarządzany przez FinCEN (The US Financial Crimes Enforcement Bureau) i należy do systemu rejestracji i licencjonowania. Uzyskanie licencji MSB sygnalizuje determinację MixPay w przyspieszeniu ekspansji na globalny rynek zgodności.
Ponieważ coraz więcej giełd jest licencjonowanych, kupowanie i sprzedawanie walut cyfrowych stanie się legalne i regulowane. Można przewidywać, że więcej krajów podąży za tym trendem, sprawiając, że handel i inwestycje będą naprawdę nieodłączne i nieodłączne, a finanse będą łatwiejsze w zarządzaniu i wygodniejsze.