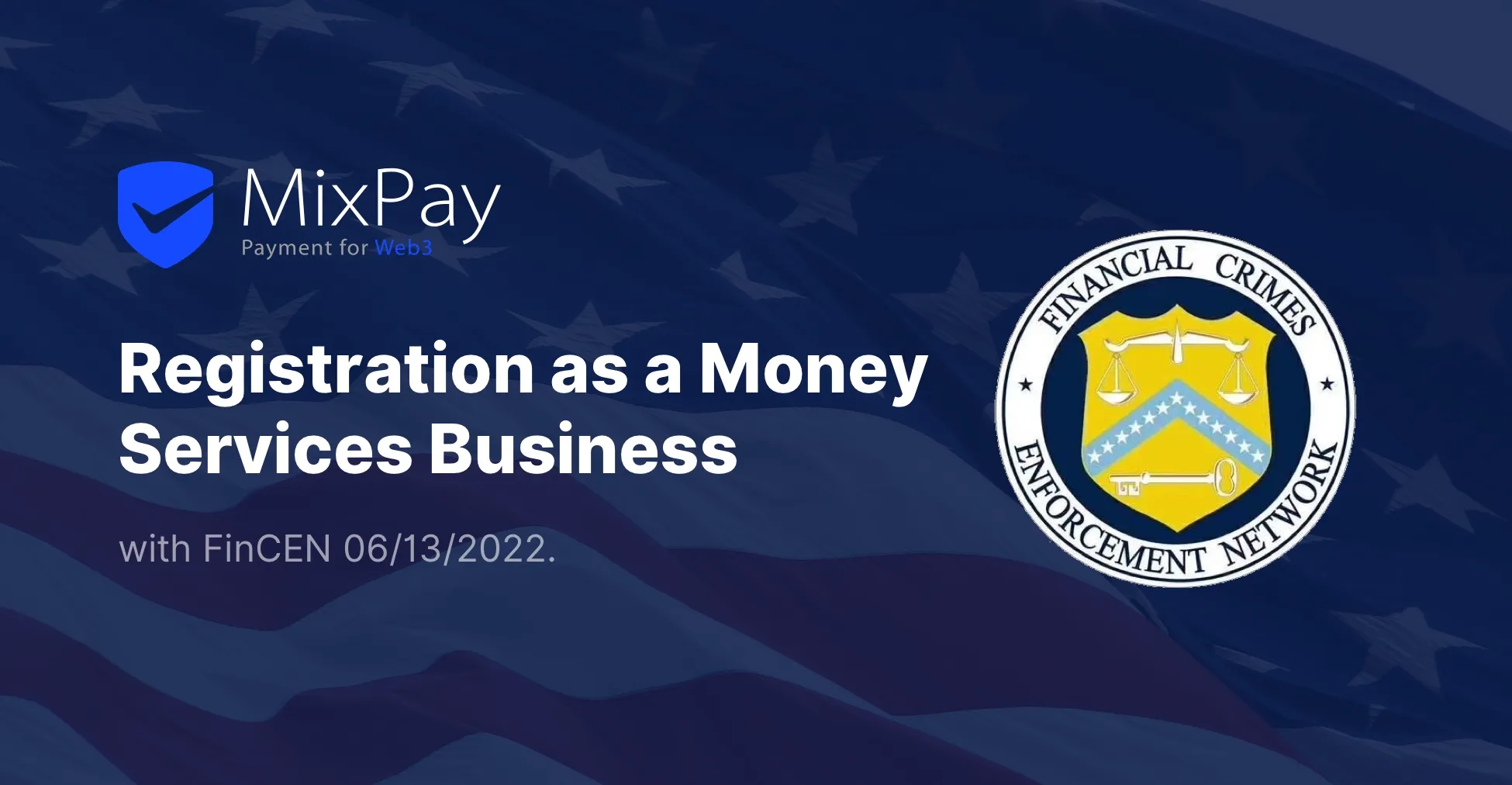 MixPay , decentralizovaná platforma pre platby v kryptomenách postavená na Mixin Network , oznámila, že 13. júna 2022 získala od FinCEN súhlas na prevádzku ako Money Services Business (MSB) v Spojených štátoch.
Predtým miestne burzy v Spojených štátoch a globálne burzy ako Binance a Huobi úspešne získali licenciu na oficiálne spustenie služieb obchodovania s aktívami blockchainu pre amerických používateľov. MixPay je vždy na prvom mieste súlad. Získanie licencie MSB umožňuje spoločnosti MixPay legálne prevádzkovať svoje podnikanie v Spojených štátoch a umožňuje Američanom jednoducho odosielať a prijímať platby v kryptomenách. Okrem toho, MixPay rozširuje svoje regulačné zastrešenie pre partnerov a používateľov, čím umožňuje fiat zapnutie/vypnutie digitálnych aktív.
MixPay, založený na Mixin Network a Mixin Messenger , je kryptomenná platobná brána, ktorá podporuje akékoľvek zúčtovanie kryptomien a fiat meny a je priateľská k bežným používateľom a vývojárom. MixPay dokáže oddeliť platbu, cenovú ponuku a vyrovnanie v základnej vrstve, podporuje akúkoľvek platbu v peňaženke a poskytuje tri režimy vyrovnania: individuálny, vývojársky a viacpodpisový účet.
Ako znie jeho slogan:
MixPay , platba za Web3.
Stovky offline obchodníkov a online platforiem sa spojili s Mixpay, aby uľahčili príjem kryptomien. Pre obchodníkov je to nízkonákladový spôsob poskytovania širokej škály bezhraničných služieb. Pre používateľov je to jednoducho použiteľné platobné riešenie oveľa pohodlnejšie ako väčšina iných platobných metód. Cieľom MixPay je poskytnúť flexibilnú platobnú bránu Web3 s flexibilným API. To, čo MixPay dokáže, je obmedzené len kreativitou jeho vývojárov.
MSB, skratka pre Money Services Business , je pod správou FinCEN (The US Financial Crimes Enforcement Bureau) a patrí do registračného a licenčného systému. Získanie licencie MSB signalizuje odhodlanie spoločnosti MixPay urýchliť expanziu na globálny trh dodržiavania predpisov.
Keď bude viac búrz licencovaných, nákup a predaj digitálnych mien sa stane zákonným a regulovaným. Dá sa predpovedať, že tento trend bude nasledovať viac krajín, vďaka čomu bude obchod a investície skutočne bez hraníc a neodmysliteľné, vďaka čomu budú financie spravovateľnejšie a pohodlnejšie.