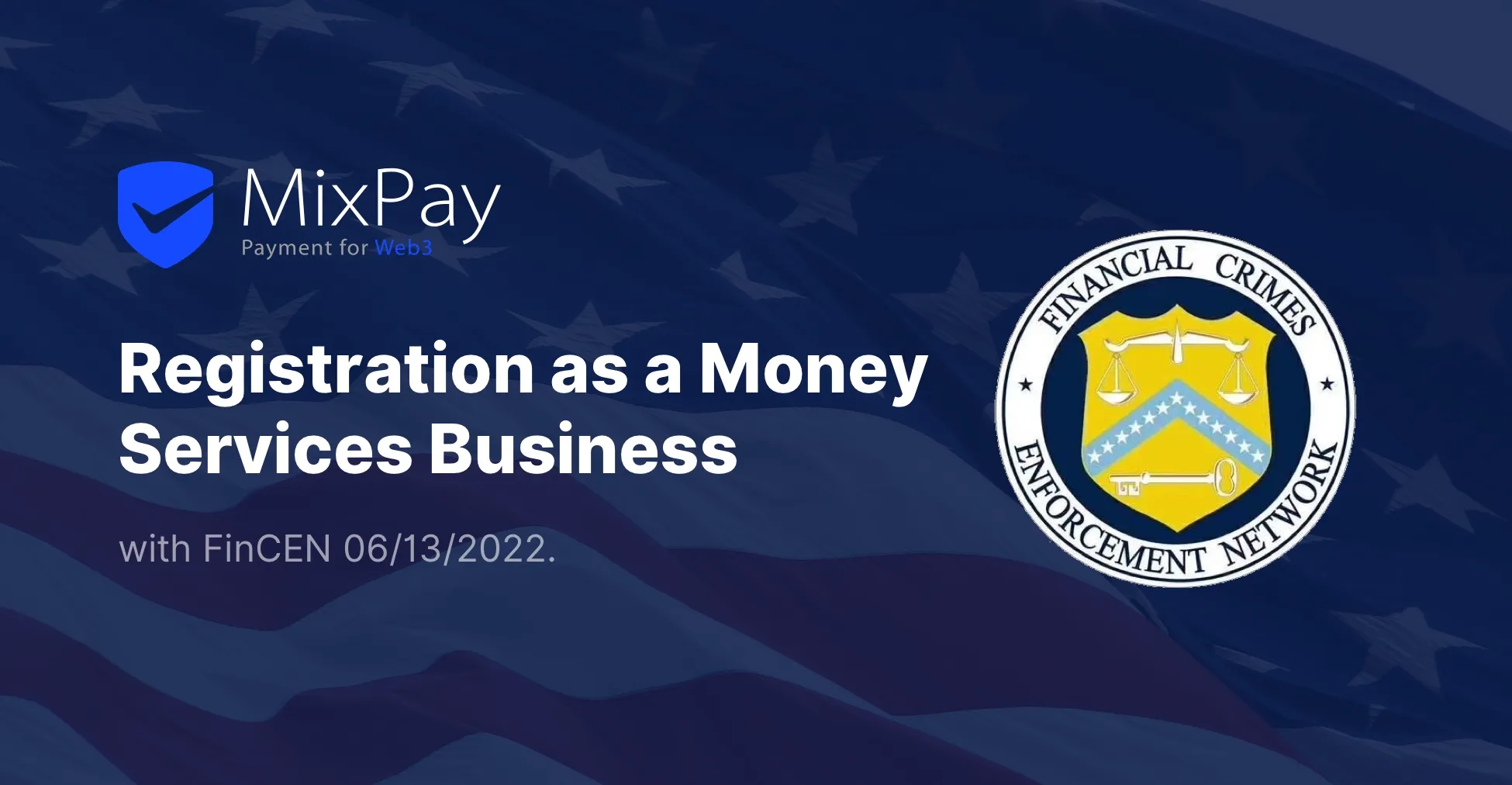 MixPay , decentralizirana platforma za plačilne storitve s kriptovalutami, zgrajena na omrežju Mixin Network , je objavila, da je 13. junija 2022 od FinCEN prejela odobritev za delovanje kot podjetje za denarne storitve (MSB) v Združenih državah.
Pred tem so lokalne borze v Združenih državah in globalne borze, kot sta Binance in Huobi , uspešno pridobile licenco za uradno uvedbo storitev trgovanja s sredstvi blockchain za ameriške uporabnike. MixPay je vedno na prvem mestu tudi skladnost. Pridobitev licence MSB omogoča podjetju MixPay zakonito poslovanje v Združenih državah, Američanom pa omogoča preprosto pošiljanje in prejemanje plačil v kriptovalutah. Poleg tega MixPay razširja svoj regulativni okrilje za partnerje in uporabnike, kar omogoča vklop/izklop fiat za digitalna sredstva.
MixPay, ki temelji na omrežju Mixin in Mixin Messengerju , je prehod za kripto plačila, ki podpira poravnavo katere koli kriptovalute in fiat valute ter je prijazen do navadnih uporabnikov in razvijalcev. MixPay lahko loči plačilo, ponudbo in poravnavo v osnovnem sloju, podpira katero koli plačilo z denarnico in nudi tri načine poravnave: posameznik, razvijalec in račun z več podpisi.
Kot pravi njen slogan:
MixPay , plačilo za Web3.
Na stotine trgovcev brez povezave in spletnih platform je sodelovalo z Mixpay, da bi olajšali prejemanje kriptovalut. Za trgovce je to nizkocenovni način zagotavljanja širokega nabora storitev brez meja. Za uporabnike je to preprosta plačilna rešitev, ki je veliko bolj priročna kot večina drugih načinov plačila. MixPay želi zagotoviti prilagodljiv prehod za plačila Web3 s prilagodljivim API-jem. To, česar je MixPay sposoben, je omejeno le z ustvarjalnostjo njegovih razvijalcev.
MSB, okrajšava za Money Services Business , je pod vodstvom FinCEN (Urad ZDA za boj proti finančnim zločinom) in spada v sistem registracije in licenciranja. Pridobitev licence MSB nakazuje odločenost družbe MixPay, da pospeši svojo širitev na svetovni trg skladnosti.
Ko bo licenciranih več menjalnic, bo nakup in prodaja digitalnih valut postala zakonita in regulirana. Predvidevamo lahko, da bo več držav sledilo temu trendu, zaradi česar bodo trgovina in naložbe postale resnično brezmejne in neločljivo povezane, zaradi česar bodo finance bolj obvladljive in priročne.