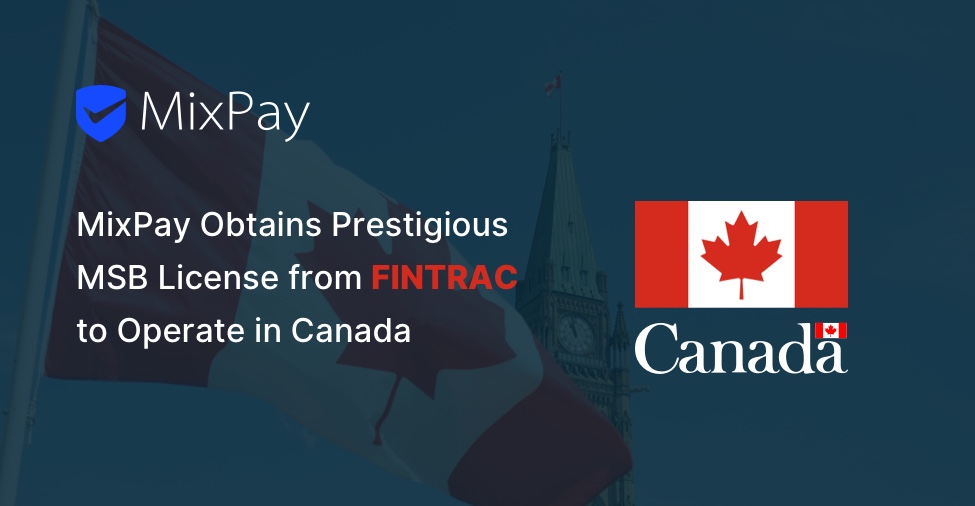 MixPay har erhvervet en pengeservicevirksomhed (MSB) licens fra Financial Transactions and Reports Analysis Center (FINTRAC). Den canadiske MSB-licens udstedt af FINTRAC tillader MIXPAY LTD. at foretage pengeoverførsler og være forhandler for udenlandsk valuta samt for digitale valutaer.
Det er endnu en vigtig milepæl i forretningsglobaliseringen og udvidelsen af overholdelse af MixPay, efter at have fåetMSB-godkendelse fra FinCEN til at udvikle det amerikanske marked for to måneder siden. Canadas banksystem anses for at være et af de mest pålidelige systemer i verden. Med Canada blandt de mange lande, der ser sin andel af digitale pengeoverførsler vokse, ser det ud til, at et globalt skridt mod kontantløse økonomier er på vej. Købet af den canadiske MSB-licens betyder, at MixPay er blevet tildelt til at levere finansielle tjenester og komme ind på det canadiske marked.
Licensen til pengeservicevirksomheder (MSB'er) er påkrævet af et firma for at overholde loven om udbytte af kriminalitet (hvidvaskning af penge) og terrorismefinansiering (PCMLTFA) og tilhørende bestemmelser. Det hjælper med at forhindre hvidvask af penge og finansiering af terroraktivitet i Canada. MixPay er altid overholdelse først. Modtagelse af denne licens og succesfuld registrering understreger dens forpligtelse til at samarbejde med regulatorer i de jurisdiktioner, som MixPay opererer i over hele kloden.
MixPay, baseret på Mixin Network , er en kryptobetalingsprotokol, der understøtter enhver kryptovaluta og fiat-valutaafregning og er venlig over for almindelige brugere og udviklere. MixPay kan adskille betaling, tilbud og afregning i det underliggende lag, understøtte enhver tegnebogsbetaling og give tre afregningstilstande: individuel, udvikler og multisignaturkonto.
Hundredvis af offline købmænd og online platforme har indgået partnerskab med Mixpay for at gøre det nemmere at modtage kryptovalutaer. For handlende er det en billig måde at tilbyde en bred vifte af grænseløse tjenester. For brugerne er det en brugervenlig betalingsløsning, der er meget mere bekvem end de fleste andre betalingsmetoder. MixPay sigter mod at levere en fleksibel Web3-betalingsprotokol med en fleksibel API.
MAS-godkendelsen kræver, at licenstagere opfylder en høj standard for overholdelse, hvilket gør det muligt for børser og andre kryptoplatforme at tilbyde digitale betalingstokentjenester. Desuden sikrer det, at brugerne får sikre og kompatible digitale aktiver og andre tjenester. Canada er en af de mest kryptovenlige nationer, der driver blockchain og digitale aktiver vedtagelse. Globale kryptofirmaer som Huobi, Ripple, og FTX har successivt opnået den canadiske MSB-licens ind i Canada. Overholdelsesudviklingen i kryptoindustrien markerer endnu en milepæl i det globale kryptoregulatoriske landskab. Under overholdelsesbetingelser vil MixPay fortsætte med at udforske og bidrage til at levere kryptobetalingstjenester til brugere i flere regioner og hjælpe flere mennesker med at nyde bekvemmeligheden ved Web3-betaling så hurtigt som muligt.
MixPay-protokol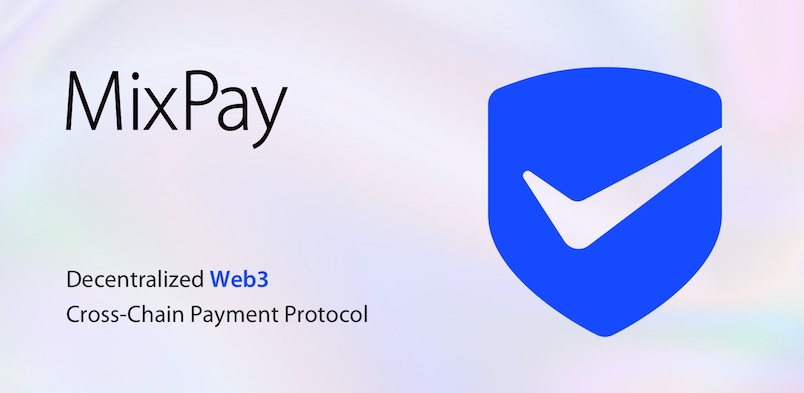 MixPay Protocol er en decentraliseret web3 cross-chain betalingsprotokol, som forbinder forskellige kæder, forskellige tokens, forskellige tegnebøger og børser, uanset om det er en on-chain wallet (MetaMask, Trust Wallet) eller en centraliseret wallet (Blockchain.com, BlockFi). ), eller børser (Binance, Coinbase). Så længe de får adgang til MixPay-protokollen, kan de give deres brugere sikre, enkle og gratis betalingstjenester overalt i verden markeret af MixPay, uden at handlende skal bekymre sig om, hvilken tegnebog eller token kunden bruger til at betale, ligesom hvad Visa og Mastercard gør i det traditionelle betalingsfelt.