MixPay er begejstret for at præsentere en opdateret betalingsside med understøttelse af Binance Pay og FTX US Pay (FTX Pay vil snart være tilgængelig), og MixPay+ er tilføjet med udvidede tegnebøger. Med denne opdatering bliver din betalingsbehandling mere behagelig. Tidligere optimerede MixPay autorisationsloginmekanismen til at understøtte login på flere enheder og gjorde det muligt for brugere at bruge MixPay på mobil og desktop. Checkout-opgraderingen afspejles på både mobil og desktop; fortsæt med at læse for det nye design i detaljer.
Sådan ser det ud på skrivebordsbrowseren: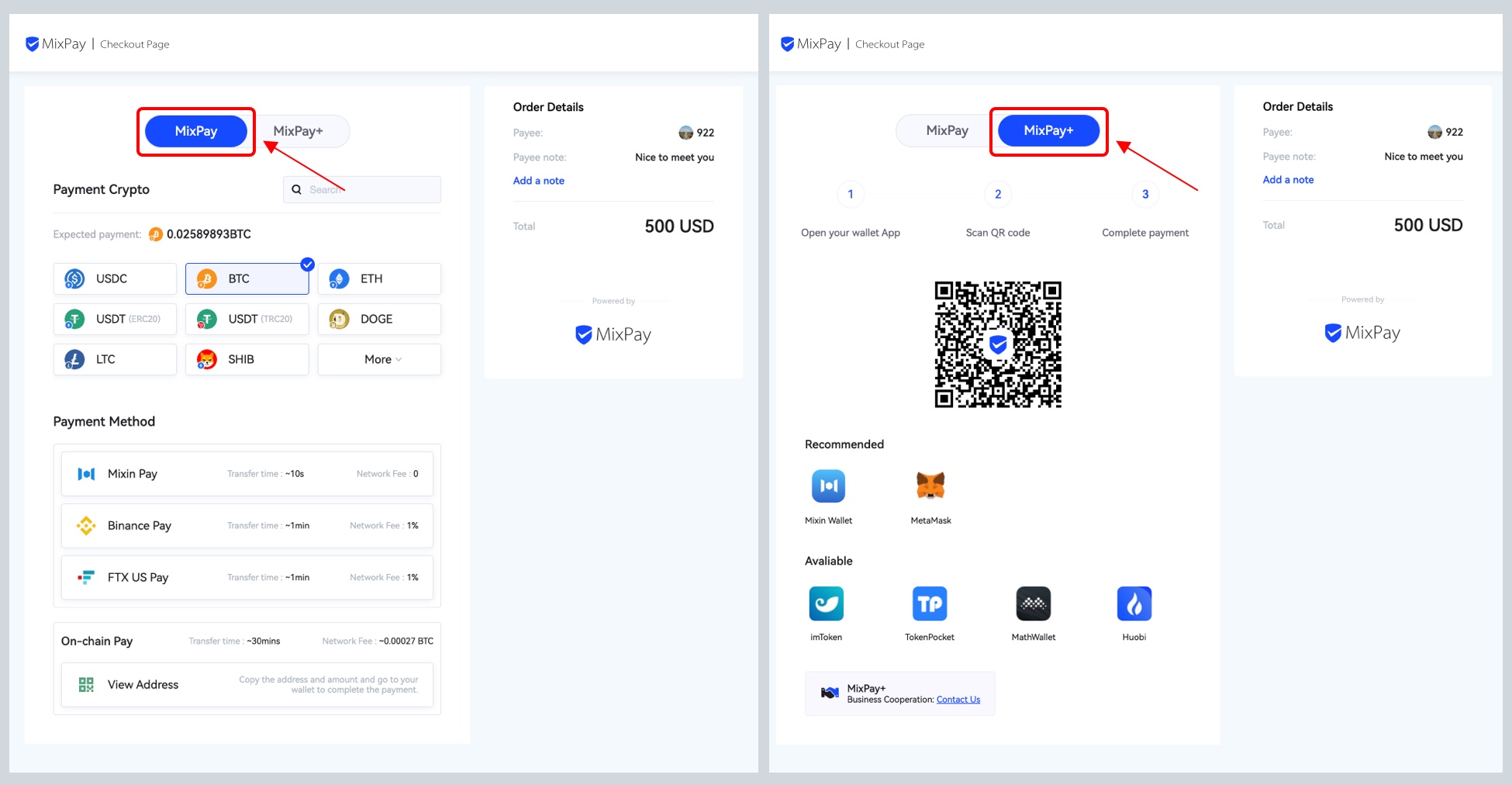 Du kan finde to separate sider, MixPay og MixPay+. På betalingsmetoden kan du finde de fire betalingsmetoder på side MixPay :
Mixin Pay : Der kræves ingen gasgebyr ved transaktioner i Mixin Messenger .

Binance Pay : For at betale med Binance Pay skal du have en Binance-konto med ikke mindre end 0,5 USD kryptovaluta.

FTX US Pay : For at betale med FTX US Pay skal du have en FTX US-konto med ikke mindre end 0,1 USD i kryptovaluta. (FTX Betal snart...)

On-chain Pay : On-chain Pay er opdateret for at give wallet plugins. Udover at kopiere adressen og beløbet til enhver tegnebog for On-chain betalingen, er betaling direkte via en pc-browser tilgængelig nu. Når du vælger ETH som betalingskrypto, kan du forbinde din tegnebog direkte, f.eks. "logge ind" på Web3. Metamask, Coinbase Wallet og WalletConnect er tilgængelige i øjeblikket.

Denne demo viser, hvordan du kan betale direkte via MetaMask på en pc-browser:

På betalingsmetoden kan du finde de udvidede tegnebøger på siden MixPay+ :

MixPay+ : MixPay+ er designet til at styrke hver enkelt app. At betale med MixPay+ er lige så nemt som at scanne QR-koden for at gennemføre kryptobetalingen. Enhver tegnebog eller børs kan kombineres med MixPay for at give brugerne den ultimative betalingsoplevelse. Indtil videre er Mixin Wallet, MetaMask, imToken, TokenPocket, MathWallet og Huobi tilgængelige.

Denne demo viser, hvordan du kan bruge MixPay+ til at betale med ETH ved hjælp af MetaMask-pungen. Det er meget enkelt og kræver minimal indsats. Prøv det selv!
Sådan ser det ud på mobilenheden: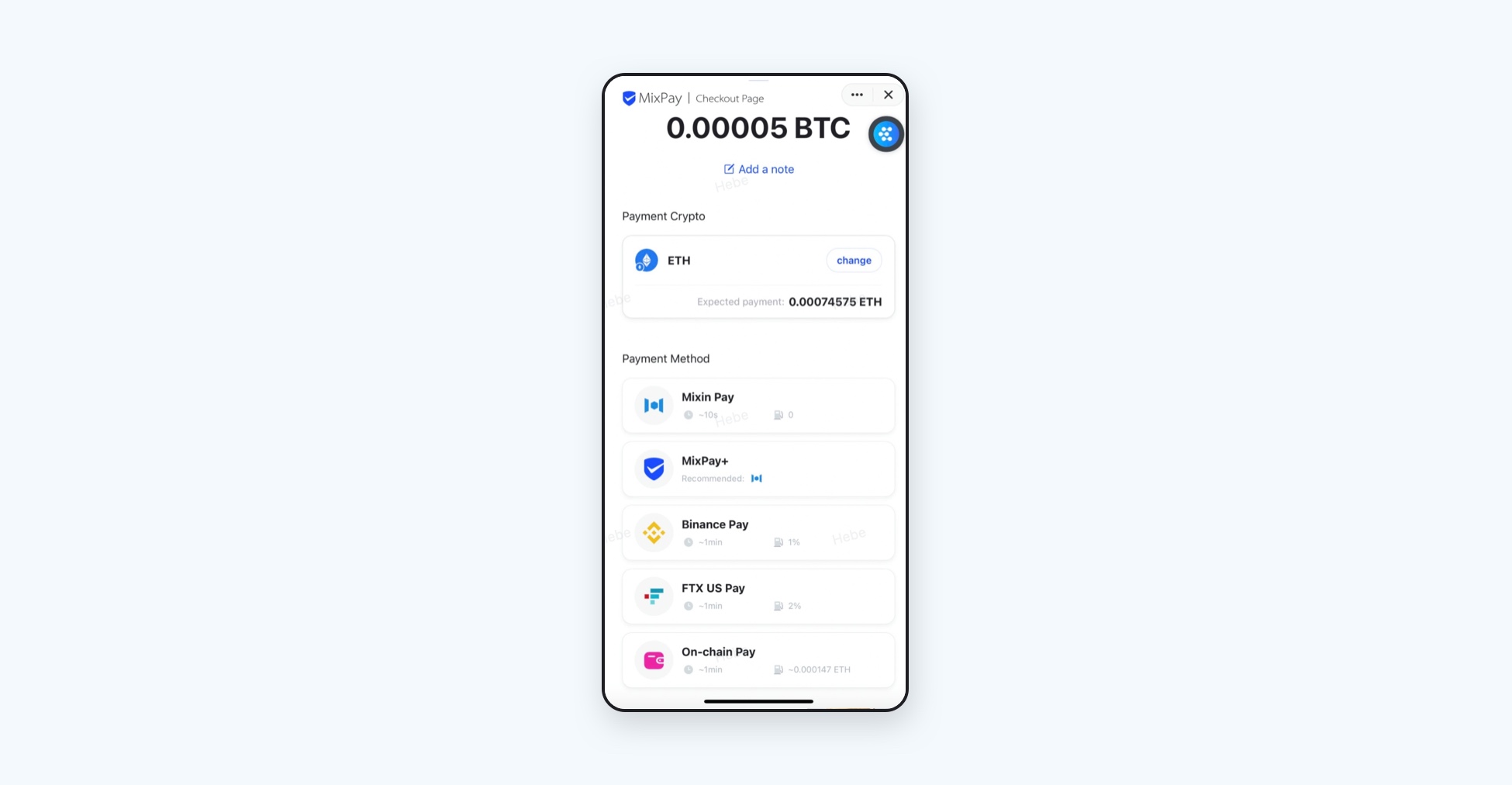 Du kan finde de fem betalingsmetoder på samme side, som adskiller sig fra, hvad der er på Desktop-browseren. På mobilkassesiden er Mixin-pungen i øjeblikket tilgængelig i MixPay+, forskellig fra de mange punge, der understøttes på desktop-enheden.
"Den ultimative betalingsoplevelse er vores kernekompetence. Vi vil fortsætte med at udvikle dette produkt, så brugerne oplever det ultimative inden for betaling og nyder det bedste, det kan være."
MixPay-protokol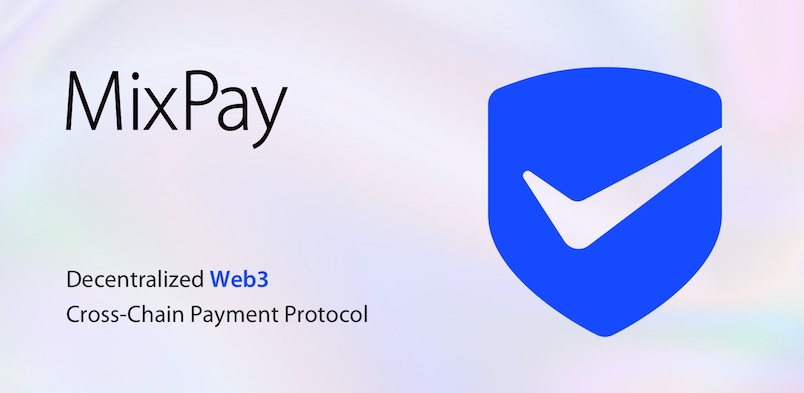 MixPay Protocol er en decentral web3 betalingsprotokol på tværs af kæder, som forbinder forskellige kæder, forskellige tokens, forskellige tegnebøger og børser, uanset om det er en on-chain wallet (MetaMask, Trust Wallet) eller en centraliseret wallet (Blockchain.com, BlockFi). ), eller børser (Binance, Coinbase). Så længe de får adgang til MixPay-protokollen, kan de give deres brugere sikre, enkle og gratis betalingstjenester overalt i verden markeret af MixPay, uden at handlende skal bekymre sig om, hvilken tegnebog eller token kunden bruger til at betale, ligesom hvad Visa og Mastercard gør i det traditionelle betalingsfelt.