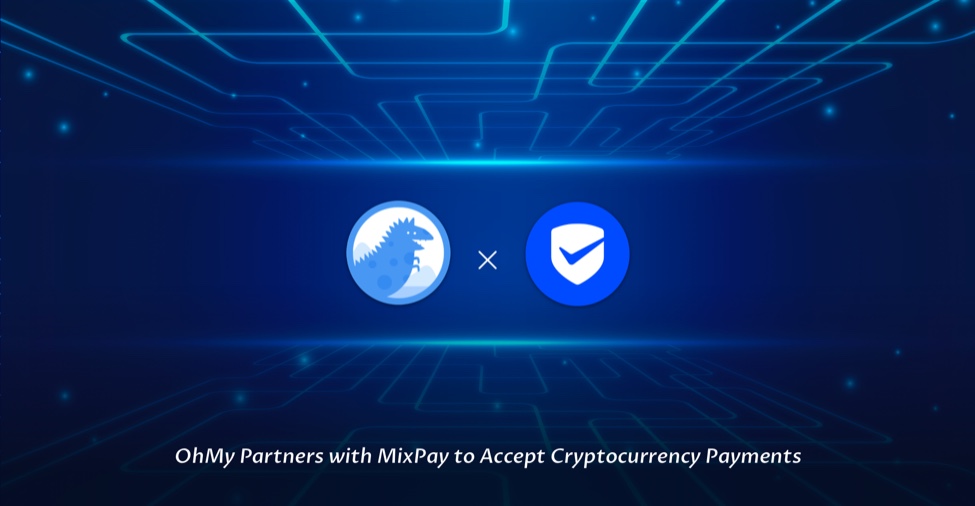 OhMy er en medlemskabsplatform, hvor du kan opbygge et fantastisk fællesskab i Mixin. I dag annoncerede den, at den vil acceptere betalinger i form af kryptovaluta gennem et nyt partnerskab med MixPay. Muligheden for at acceptere cryptocurrency gør det muligt for OhMy at tiltrække nye fans og skabere til platformen.
An-lee, udvikleren af OhMy, besluttede at acceptere krypto som en ny funktion, imødekomme nye kreatørpræferencer og give fans flere muligheder, fleksibilitet og frihed. MixPay tager sig af hele processen og gør det nemt og sikkert at modtage krypto fra passionerede fans til skabere. At give skaberne mulighed for at blive betalt med kryptovaluta er en del af vores platform for innovation gennem blockchain-teknologi. MixPay er meget fleksibel på grund af dens underliggende evne til at adskille de tre dele af tilbud, betaling og afvikling. Det betyder, at uanset hvilken krypto fans vælger at betale, kan skaberne indstille sig til at acceptere de kryptoer, de foretrækker, og MixPay konverterer dem automatisk.
Hvordan accepterer jeg kryptovaluta med MixPay på OhMy?
OhMy har fordel af at tilføje kryptovaluta til sine betalingsmuligheder gennem MixPay, den fleksible udbyder af bitcoin- og kryptovalutabetalingstjenester. OhMy integrerer MixPay som betalingsmiddel, det vil acceptere betaling i en række kryptovalutaer, der omfatter Bitcoin(BTC), Ethereum (ETH), XIN, Dogecoin (DOGE), Litecoin (LTC), SHIB, USDC, USDT og mAED.
Der er kun to trin, som skaberne på OhMy kan blive betalt med kryptovaluta i MixPay. Det er nemmere, end du tror.
Opret et betalt fællesskab på OhMy. Først skal du registrere en Mixin bot; For det andet skal du oprette OhMy APP med Mixin bot's hemmeligheder; Derefter skal du opdatere Mixin Bot config; Sidst skal du administrere din OhMy APP. (Besøg her for at få en komplet vejledning). Nu har du din egen cirkel.

Fans tilmelder sig din cirkel og vælger at "Pay with other assets"(som vist på billedet nedenfor), så kan du blive betalt med kryptovaluta med MixPay. Hvis dine fans betaler med Mixin Wallet, behøver de forresten ikke at betale gasgebyrer, hvis de betaler med Mixin Wallet.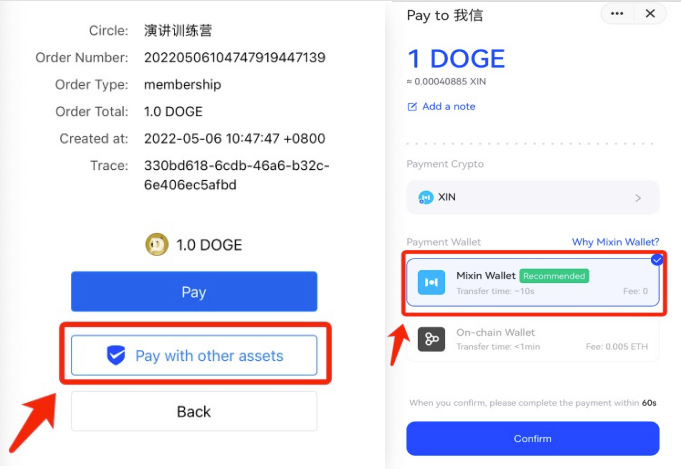 Om OhMy.xin
OhMy.xin er en SaaS-platform til hosting af Mixin Bots, baseret på Mixin Messenger. Den typiske brugssag er OhMy Circle, et super fedt fællesskabsværktøj i Mixin Messenger. Det giver fællesskabsværktøjer til indholdsskabere til at drive et fællesskab af høj kvalitet og skabe forbindelse med fans. Driften af fællesskabet og fan management er enklere.
Du kan vælge en gratis eller abonnementslignende betalingsmodel på OhMy. Her kan du lade dine fans blive aktive deltagere i det job, de elsker, de kan opbygge et fællesskab og skabe indhold. Med en betalt cirkel betaler fans deres yndlingsskabere et månedligt beløb efter eget valg til gengæld for VIP-adgang og ekstra indhold. Nu integrerer OhMy MixPay som en form for betaling, fans kan ikke kun støtte skaberne via fiats, men også betale med de kryptoer, de foretrækker. Denne model er en win-win-model, skaberne bevarer deres kreative frihed, mens de tiltrækker krypto-entusiaster, og fans får endnu en mulighed for at støtte deres idoler.
OhMy.xin indser potentialet for krypto i fremtiden og gør betalinger hurtigere, mere sikre og uden kommissionsgebyrer med MixPay i Minxin på globalt plan.
For yderligere oplysninger besøg OhMy.xin.
Om MixPay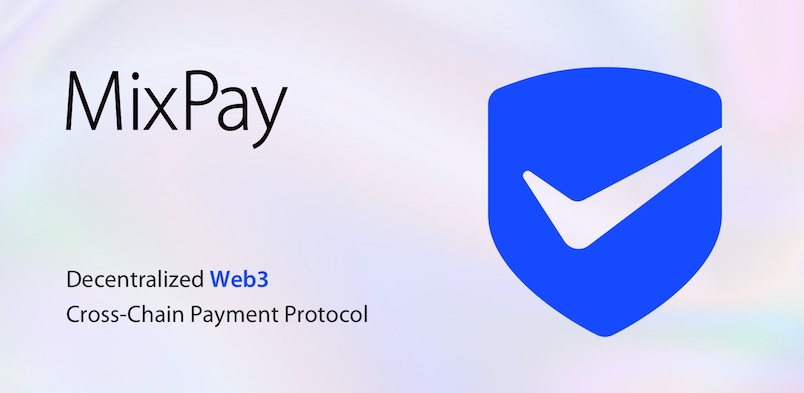 MixPay er en decentraliseret cryptocurrency betalingstjenesteplatform bygget på Mixin Network. MixPay har evnen til at adskille betaling, tilbud og afvikling i det underliggende lag, understøtter enhver kryptovaluta og fiat valuta afvikling, understøtter enhver tegnebog betaling, og giver tre afviklingsformer: individuel, udvikler og multi-sign konto. MixPay, betaling for Web3.
MixPay-dokumenter
Social