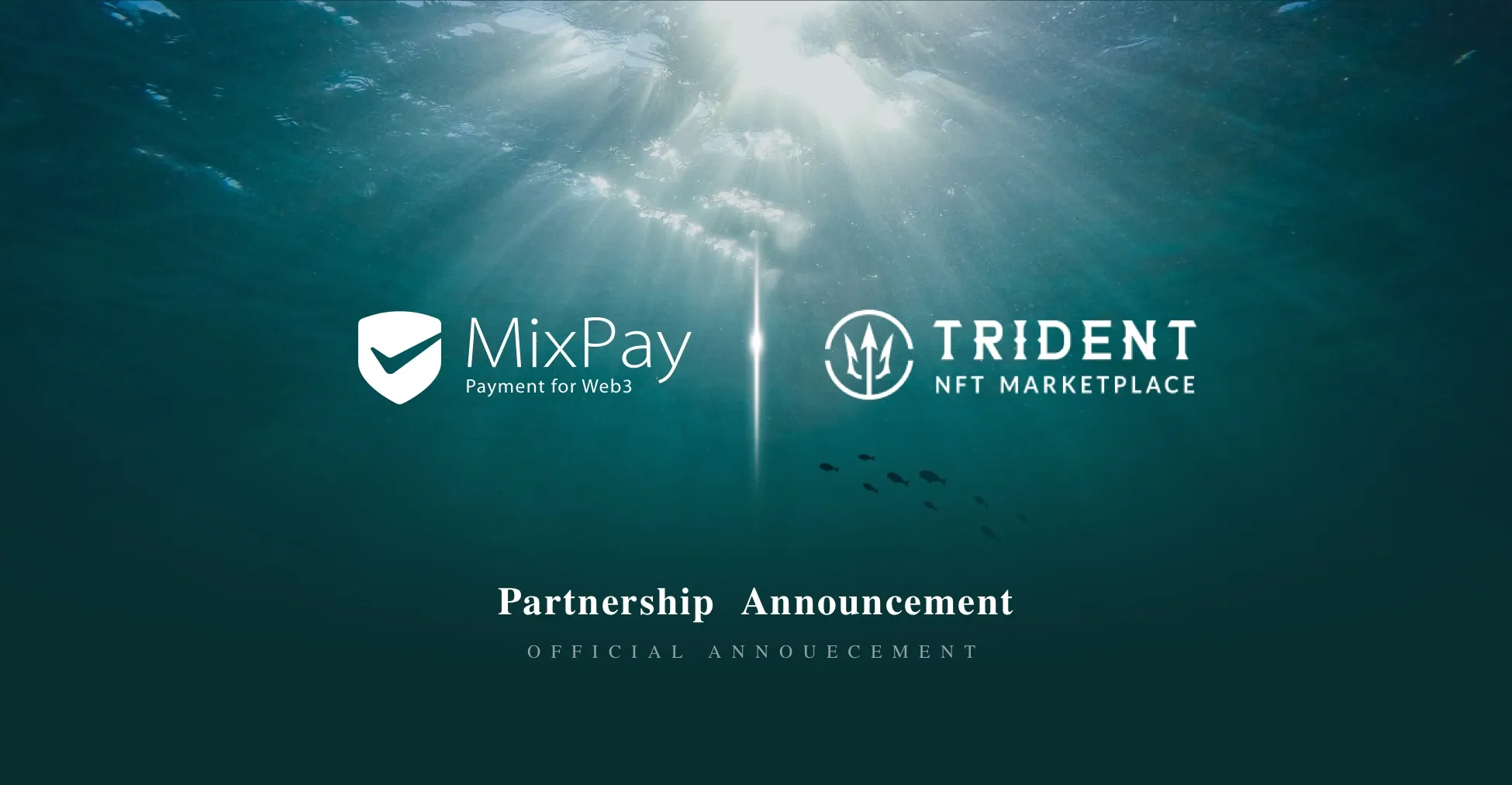 Örömmel jelentjük be, hogy a MixPay hivatalosan is együttműködési megállapodást kötött a Tridenttel, a vezető és az egyik legkreatívabb NFT-re szakosodott projekttel.
A Trident egy könnyen használható NFT piactér minden általános felhasználó számára, a Mixin Networkre épül, és MTG technológiával működik. A következő három funkcióval, így a Trident a legjobb NFT-piac az Ön számára, ahol felfedezheti, összegyűjtheti és eladhatja kedvenc NFT-jét:
Gyors és gázmentes. A Mixin Networkben az átvitel rendkívül gyors, és nem kell gázt fizetni.
Biztonságos. Az eszközöket az MTG technológia biztonságosan védi.

Könnyen kezelhető. Használja úgy, mint egy normál vásárlási alkalmazást.

Az együttműködés révén a Trident felhasználói bármilyen kriptográfiai eszközzel és bármilyen pénztárcával NFT-t vásárolhatnak. A Trident csapata úgy véli, hogy ez az együttműködés javítani fogja a Trident szolgáltatásait azáltal, hogy a felhasználók számára a legjobb NFT-vásárlási élményt nyújtja.

Az NFT-kre való terjeszkedés logikus következő lépést jelent a MixPay projekt számára, ami erős bizonyítéka annak, hogy a MixPay egy robusztus kriptofizetési átjáró, amely rugalmas web3 fizetési átjárót biztosít rugalmas API-val. Hatékony API-jával a MixPay segíthet a felhasználóknak megfelelni a különféle forgatókönyvek igényeinek. A MixPay eddig több iparághoz csatlakozott több száz partnerrel, offline kereskedőkkel és online platformokkal egyaránt. Offline kereskedők számára, mint például a Yadawei Ceramics Studio és a Bake N More ; Online platformokhoz, mint például az OhMy és az OptionDance .
Hogyan vásárolhat NFT-t a MixPay használatával a Trident-en?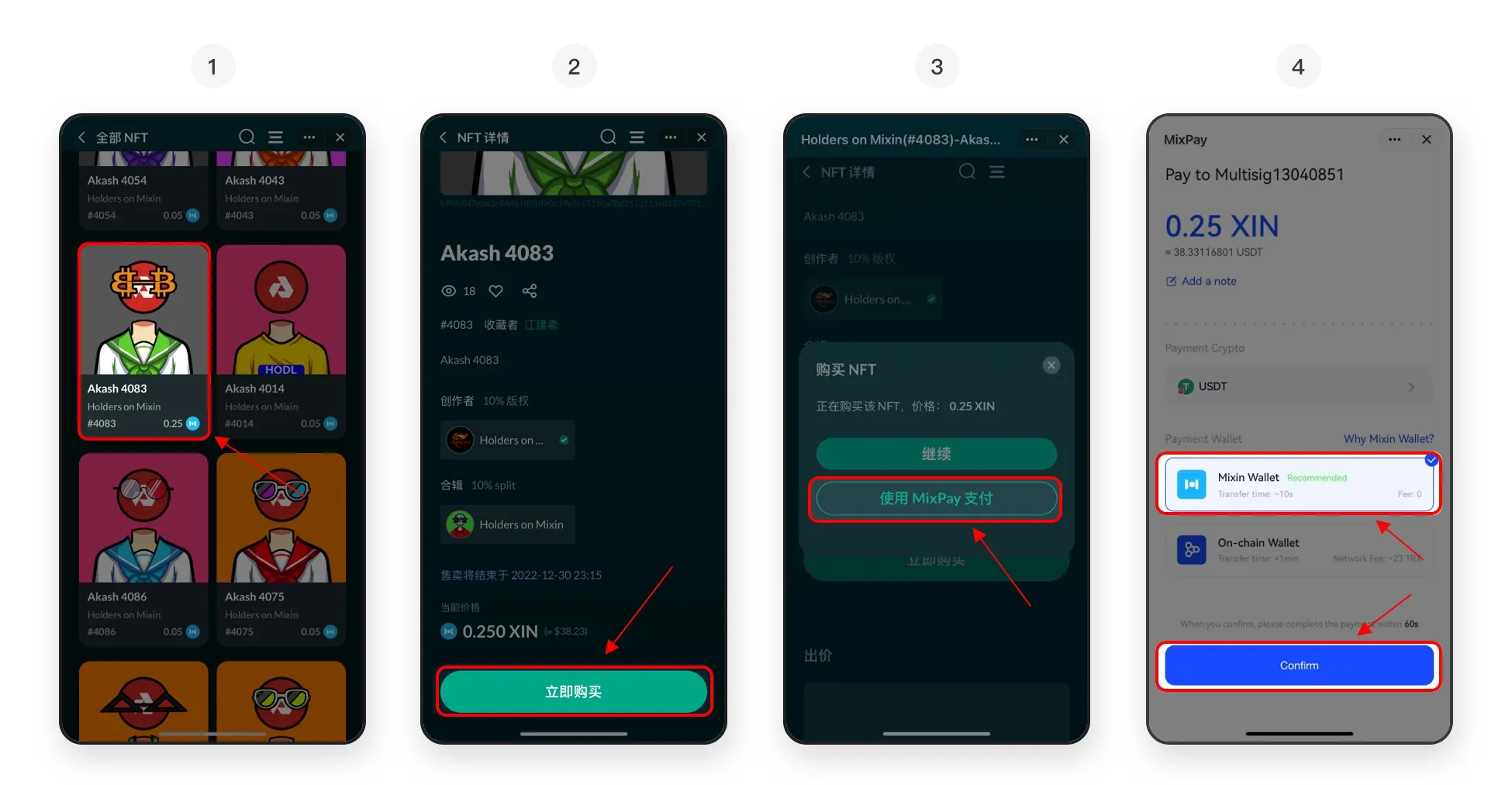 Első lépés: Lépjen be a Trident kezdőlapjára, válassza ki a kívánt NFT-t, és kattintson rá.
Második lépés: Nyomja meg a "vásárlás" gombot, és folytassa a fizetéssel.
Harmadik lépés: A fizetési mód részben válassza ki a MixPay fizetési módot.
Negyedik lépés: A MixPay fizetési mód kiválasztása után fejezze be a rendelés kifizetését.
Válassza ki a fizetendő eszközt, fizetési módként válassza a Mixint vagy bármely más láncon belüli Walletet, majd kattintson a Fizetés gombra a fizetés elindításához. Ez az! Kövesse a fenti négy lépést, hogy megszerezze kedvenc NFT-jét!
A MixPayről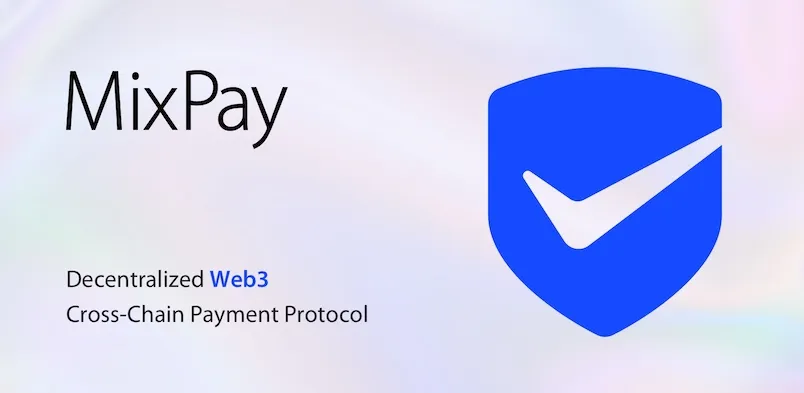 A MixPay egy decentralizált kriptovaluta fizetési szolgáltatási platform, amely a Mixin Networkre épül. A MixPay el tudja különíteni a fizetést, az árajánlatot és az elszámolást a mögöttes rétegben, támogat bármilyen kriptovaluta és fiat valuta elszámolást, támogat bármilyen pénztárca fizetést, és három elszámolási módot biztosít: egyéni, fejlesztői és több aláírású fiókot. MixPay, Web3 fizetés.