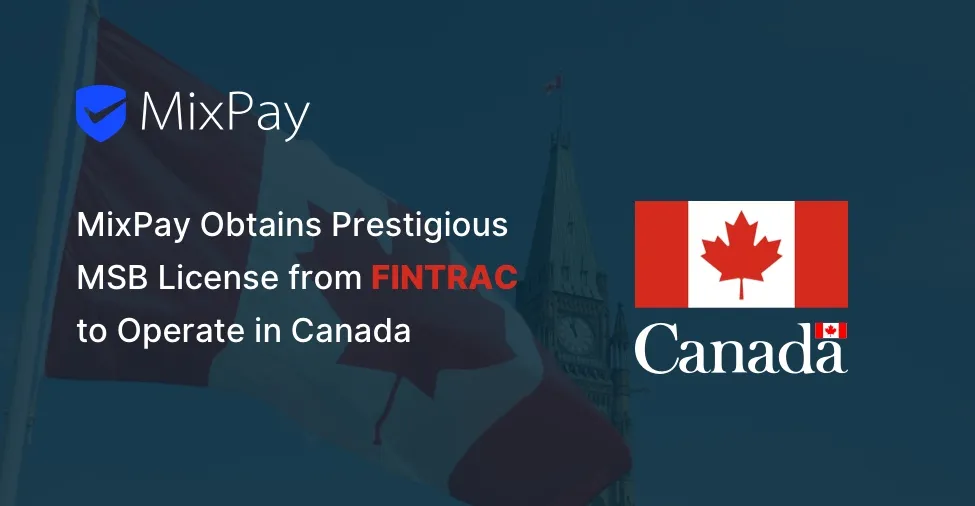 MixPay ha acquisito una licenza Money Services Business (MSB) dal Financial Transactions and Reports Analysis Center (FINTRAC). La licenza MSB canadese rilasciata da FINTRAC consente a MIXPAY LTD. per effettuare trasferimenti di denaro ed essere un commerciante di valuta estera, nonché di valute digitali.
È un'altra pietra miliare essenziale nella globalizzazione del business e nell'espansione della conformità di MixPay, dopo aver ottenuto l'approvazione MSB da FinCEN per sviluppare il mercato statunitense due mesi fa. Il sistema bancario canadese è considerato uno dei sistemi più affidabili al mondo. Con il Canada tra i tanti paesi che vedono crescere la sua quota di rimesse digitali, sembra essere in corso un movimento globale verso economie senza contanti. L'acquisizione della licenza MSB canadese significa che MixPay è stato concesso per fornire servizi finanziari ed entrare nel mercato canadese.
La licenza Money services business (MSBs) è richiesta da un'azienda per conformarsi al Proceeds of Crime (riciclaggio di denaro) e al Terrorist Financing Act (PCMLTFA) e ai regolamenti associati. Aiuta a prevenire il riciclaggio di denaro e il finanziamento di attività terroristiche in Canada. MixPay è sempre la conformità al primo posto. Il ricevimento di questa licenza e la registrazione riuscita evidenziano il suo impegno a collaborare con le autorità di regolamentazione nelle giurisdizioni in cui MixPay opera in tutto il mondo.
MixPay, basato su Mixin Network , è un protocollo di pagamento crittografico che supporta qualsiasi regolamento di criptovaluta e valuta fiat ed è amichevole per utenti e sviluppatori ordinari. MixPay può separare pagamento, preventivo e regolamento nel livello sottostante, supportare qualsiasi pagamento tramite portafoglio e fornire tre modalità di regolamento: conto individuale, sviluppatore e multi-firma.
Centinaia di commercianti offline e piattaforme online hanno collaborato con Mixpay per semplificare la ricezione di criptovalute. Per i commercianti, è un modo a basso costo per fornire un'ampia gamma di servizi senza confini. Per gli utenti, è una soluzione di pagamento facile da usare, molto più conveniente della maggior parte degli altri metodi di pagamento. MixPay mira a fornire un protocollo di pagamento Web3 flessibile con un'API flessibile.
L'approvazione MAS richiede ai licenziatari di soddisfare un elevato standard di conformità, consentendo agli scambi e ad altre piattaforme crittografiche di offrire servizi di token di pagamento digitale. Inoltre, garantisce agli utenti di ottenere risorse digitali e altri servizi sicuri e conformi. Il Canada è una delle nazioni più criptovalute che guidano l'adozione di blockchain e risorse digitali. Aziende crittografiche globali come Huobi, Ripple e FTX hanno successivamente ottenuto la licenza MSB canadese per entrare in Canada. Gli sviluppi della conformità nel settore delle criptovalute segnano un'altra pietra miliare nel panorama normativo globale delle criptovalute. In condizioni di conformità, MixPay continuerà a esplorare e contribuire a fornire servizi di pagamento crittografico per gli utenti in più regioni e aiutare più persone a godere della comodità del pagamento Web3 il prima possibile.
Protocollo MixPay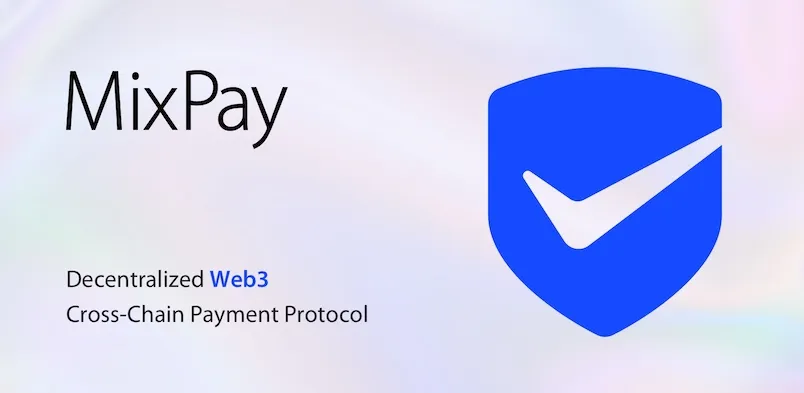 MixPay Protocol è un protocollo di pagamento cross-chain decentralizzato web3, che collega diverse catene, diversi token, diversi portafogli e scambi, sia che si tratti di un portafoglio on-chain (MetaMask, Trust Wallet) o di un portafoglio centralizzato (Blockchain.com, BlockFi ), o scambi (Binance, Coinbase). Finché accedono al protocollo MixPay, possono fornire ai propri utenti servizi di pagamento sicuri, semplici e gratuiti in qualsiasi parte del mondo contrassegnati da MixPay, senza che i commercianti debbano preoccuparsi di quale portafoglio o token utilizza il cliente per pagare, proprio come quello Visa e Mastercard fanno nel campo dei pagamenti tradizionali.