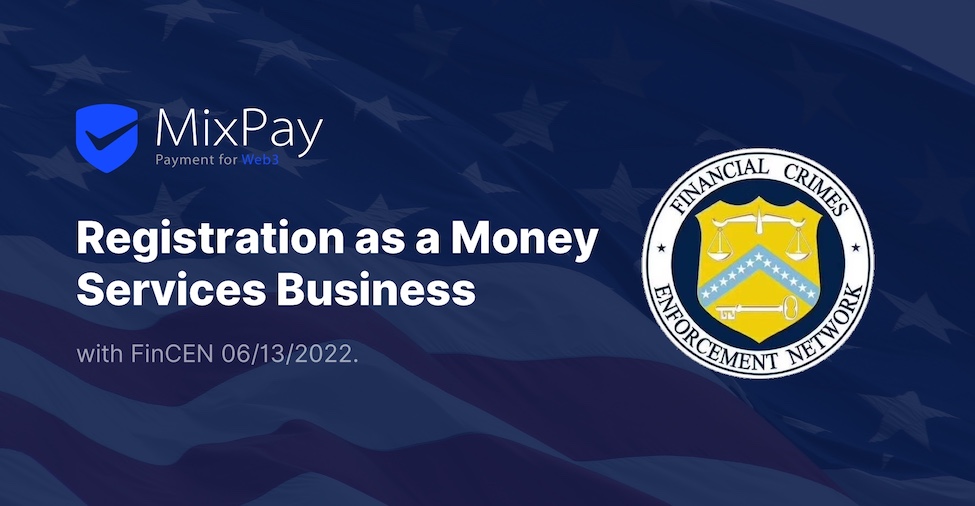 MixPay , decentralizuota kriptovaliutų mokėjimo paslaugų platforma, sukurta pagal Mixin Network , paskelbė, kad 2022 m. birželio 13 d. gavo FinCEN leidimą veikti kaip pinigų paslaugų verslas (MSB) Jungtinėse Valstijose.
Anksčiau vietinės biržos Jungtinėse Amerikos Valstijose ir pasaulinės biržos, tokios kaip Binance ir Huobi , sėkmingai gavo licenciją oficialiai pradėti Blockchain turto prekybos paslaugas Amerikos vartotojams. "MixPay" taip pat visada pirmiausia yra atitiktis. MSB licencijos gavimas leidžia MixPay legaliai vykdyti savo verslą Jungtinėse Valstijose ir leidžia amerikiečiams lengvai siųsti ir gauti mokėjimus kriptovaliuta. Be to, "MixPay" išplečia savo partneriams ir vartotojams skirtą reguliavimo sferą, suteikdama galimybę įjungti / išjungti skaitmeninį turtą.
"MixPay", pagrįsta "Mixin Network" ir " Mixin Messenger ", yra kriptovaliutų mokėjimo šliuzas, palaikantis atsiskaitymą kriptovaliutomis ir "fiat" valiuta bei draugiškas paprastiems vartotojams ir kūrėjams. "MixPay" gali atskirti mokėjimą, citatą ir atsiskaitymą pagrindiniame lygmenyje, palaikyti bet kokį mokėjimą piniginėje ir pateikti tris atsiskaitymo būdus: individualų, kūrėjo ir kelių parašų paskyrą.
Kaip sako jo šūkis:
MixPay , mokėjimas už Web3.
Šimtai neprisijungusių prekybininkų ir internetinių platformų bendradarbiauja su "Mixpay", kad būtų lengviau gauti kriptovaliutą. Prekybininkams tai nebrangus būdas teikti platų paslaugų be sienų spektrą. Vartotojams tai yra paprastas naudoti mokėjimo sprendimas, daug patogesnis nei dauguma kitų mokėjimo būdų. "MixPay" siekia suteikti lankstų "Web3" mokėjimo šliuzą su lanksčia API. Tai, ką MixPay sugeba, riboja tik jos kūrėjų kūrybiškumas.
MSB, trumpinys " Money Services Business ", yra valdomas " FinCEN " (JAV finansinių nusikaltimų vykdymo biuras) ir priklauso registracijos ir licencijavimo sistemai. MSB licencijos gavimas rodo "MixPay" pasiryžimą paspartinti savo plėtrą į pasaulinę atitikties rinką.
Kadangi bus licencijuojama daugiau keityklų, skaitmeninių valiutų pirkimas ir pardavimas taps teisėtas ir reguliuojamas. Galima prognozuoti, kad daugiau šalių laikysis šios tendencijos, todėl prekyba ir investicijos taps tikrai be sienų ir būdingos, o finansavimas taps lengviau valdomas ir patogesnis.
Oficialus | Pagalba | Dienoraštis | Kūrėjai | Twitter | El. paštas