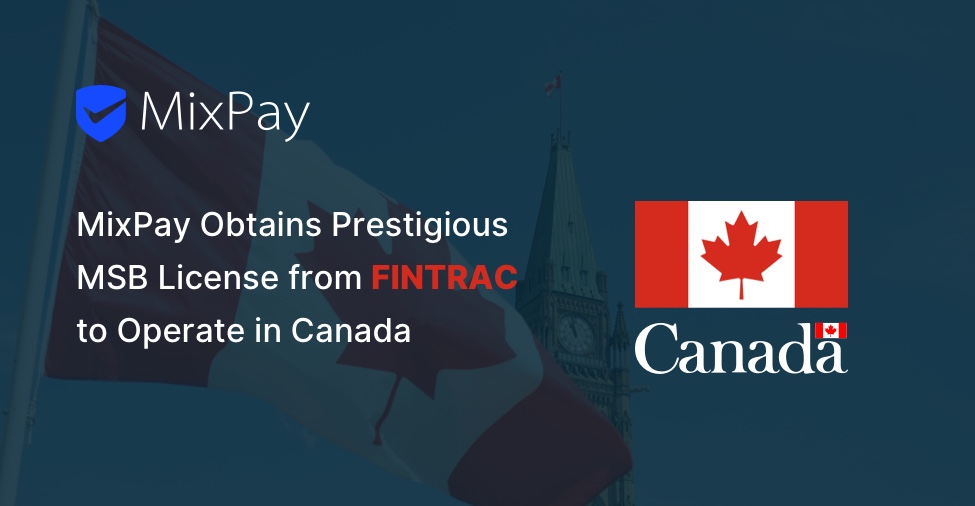 "MixPay" įsigijo pinigų paslaugų verslo (MSB) licenciją iš Finansinių operacijų ir ataskaitų analizės centro (FINTRAC). FINTRAC išduota Kanados MSB licencija leidžia MIXPAY LTD. atlikti pinigų pervedimus ir būti užsienio valiutos, taip pat skaitmeninių valiutų pardavėju.
Tai dar vienas svarbus verslo globalizacijos ir MixPay atitikties plėtros etapas, prieš du mėnesius gavusMSB patvirtinimą iš FinCEN plėtoti JAV rinką. Kanados bankų sistema laikoma viena patikimiausių sistemų pasaulyje. Kanadoje tarp daugelio šalių, kuriose skaitmeninių perlaidų dalis auga, atrodo, kad vyksta pasaulinis perėjimas prie ekonomikos be grynųjų pinigų. Kanados MSB licencijos įsigijimas reiškia, kad MixPay buvo suteikta galimybė teikti finansines paslaugas ir patekti į Kanados rinką.
Pinigų paslaugų verslo (MSB) licenciją įmonė reikalauja, kad ji laikytųsi nusikaltimų (pinigų plovimo) ir teroristų finansavimo įstatymo (PCMLTFA) ir susijusių reglamentų. Tai padeda užkirsti kelią pinigų plovimui ir teroristinės veiklos finansavimui Kanadoje. "MixPay " visada pirmiausia yra atitiktis. Šios licencijos gavimas ir sėkminga registracija pabrėžia jos įsipareigojimą bendradarbiauti su reguliavimo institucijomis jurisdikcijose, kuriose "MixPay" veikia visame pasaulyje.
"MixPay", pagrįstas "Mixin Network ", yra kriptovaliutų mokėjimo protokolas, palaikantis atsiskaitymą kriptovaliuta ir "fiat" valiuta bei draugiškas paprastiems vartotojams ir kūrėjams. "MixPay" gali atskirti mokėjimą, citatą ir atsiskaitymą pagrindiniame lygmenyje, palaikyti bet kokį piniginės mokėjimą ir pateikti tris atsiskaitymo būdus: individualų, kūrėjo ir kelių parašų paskyrą.
Šimtai neprisijungusių prekybininkų ir internetinių platformų bendradarbiauja su "Mixpay", kad palengvintų kriptovaliutų gavimą. Prekybininkams tai nebrangus būdas teikti platų paslaugų be sienų spektrą. Vartotojams tai yra paprastas naudoti mokėjimo sprendimas, daug patogesnis nei dauguma kitų mokėjimo būdų. "MixPay" siekia pateikti lankstų Web3 mokėjimo protokolą su lanksčia API.
MAS patvirtinimas reikalauja, kad licencijos turėtojai atitiktų aukštus atitikties standartus, kad biržos ir kitos kriptovaliutų platformos galėtų pasiūlyti skaitmeninių mokėjimo žetonų paslaugas. Be to, tai užtikrina, kad vartotojai gautų saugų ir reikalavimus atitinkantį skaitmeninį turtą ir kitas paslaugas. Kanada yra viena palankiausių kriptografijai šalių, skatinančių "blockchain" ir skaitmeninio turto įsisavinimą. Pasaulinės kriptovaliutų įmonės, tokios kaip Huobi, Ripple, ir FTX, iš eilės gavo Kanados MSB licenciją įžengdamos į Kanadą. Atitikties pokyčiai kriptovaliutų pramonėje žymi dar vieną etapą pasaulinėje kriptovaliutų reguliavimo srityje. Laikydamasi atitikties sąlygų, "MixPay" toliau tyrinės ir prisidės prie kriptovaliutų mokėjimo paslaugų teikimo vartotojams daugiau regionų ir padės daugiau žmonių kuo greičiau mėgautis Web3 mokėjimo patogumu.
MixPay protokolas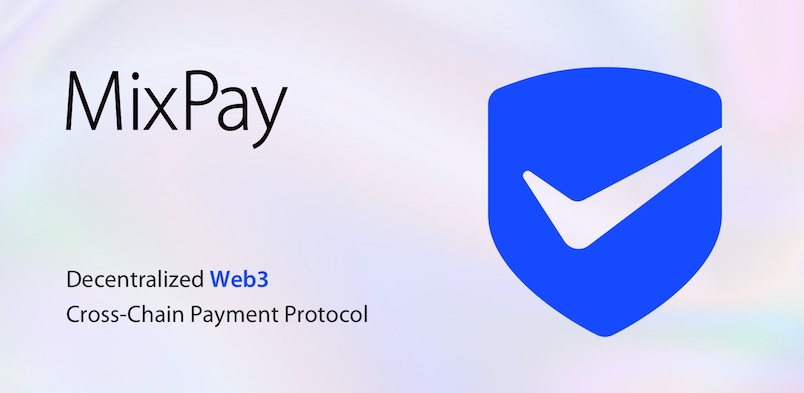 "MixPay Protocol" yra decentralizuotas žiniatinklio 3 kryžminių grandinių mokėjimo protokolas, jungiantis skirtingas grandines, skirtingus žetonus, skirtingas pinigines ir mainus, nesvarbu, ar tai yra grandinės piniginė (MetaMask, Trust Wallet), ar centralizuota piniginė (Blockchain.com, BlockFi). ), arba mainus (Binance, Coinbase). Kol jie prisijungia prie MixPay protokolo, jie gali teikti savo vartotojams saugias, paprastas ir nemokamas mokėjimo paslaugas bet kurioje pasaulio vietoje, pažymėtoje MixPay, ir prekybininkams nereikės rūpintis, kokią piniginę ar žetoną klientas naudoja mokėdamas. "Visa" ir "Mastercard" veikia tradicinėje mokėjimo srityje.
Oficialus | Pagalba | Dienoraštis | Kūrėjai | Twitter | El. paštas