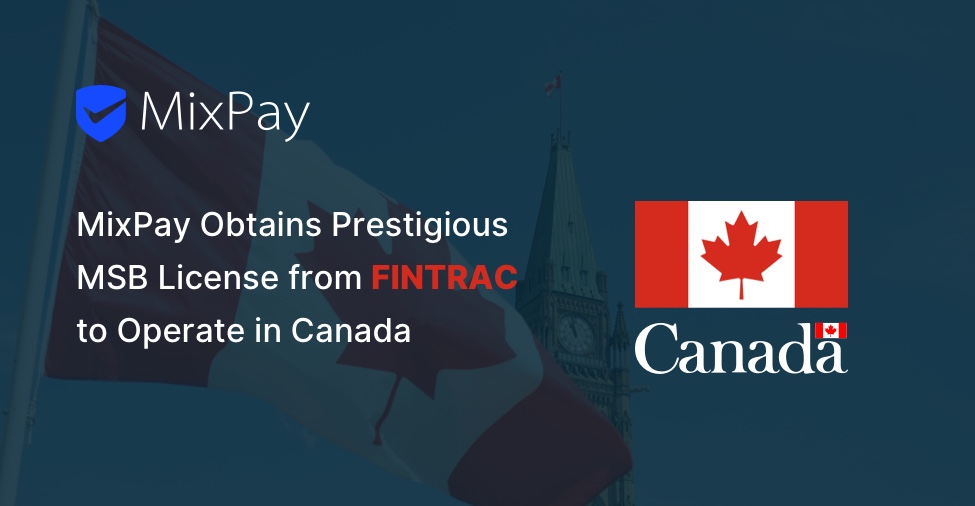 MixPay heeft een MSB-licentie ( money services business ) verkregen van het Financial Transactions and Reports Analysis Center (FINTRAC). De Canadese MSB-licentie uitgegeven door FINTRAC staat MIXPAY LTD toe. om geldoverdrachten uit te voeren en een dealer te zijn voor buitenlandse valuta, evenals voor digitale valuta.
Het is een nieuwe essentiële mijlpaal in de zakelijke globalisering en uitbreiding van de naleving van MixPay, na het verkrijgenvan MSB-goedkeuring van FinCEN om de Amerikaanse markt twee maanden geleden te ontwikkelen. Het banksysteem van Canada wordt beschouwd als een van de meest betrouwbare systemen ter wereld. Nu Canada een van de vele landen is waar het aandeel van digitale geldovermakingen groeit, lijkt er een wereldwijde beweging naar geldloze economieën op komst. De verwerving van de Canadese MSB-licentie betekent dat MixPay is verleend om financiële diensten te verlenen en de Canadese markt te betreden.
De vergunning voor gelddienstenbedrijven (MSB's) is vereist door een bedrijf om te voldoen aan de Wet op de opbrengsten van misdrijven (witwassen van geld) en terrorismefinanciering (PCMLTFA) en de bijbehorende regelgeving. Het helpt het witwassen van geld en de financiering van terroristische activiteiten in Canada te voorkomen. Bij MixPay staat altijd eerst naleving. De ontvangst van deze licentie en succesvolle registratie onderstreept zijn toewijding aan samenwerking met regelgevers in de rechtsgebieden waarin MixPay over de hele wereld actief is.
MixPay, gebaseerd op Mixin Network , is een crypto-betalingsprotocol dat elke cryptocurrency en fiat-valutaafrekening ondersteunt en vriendelijk is voor gewone gebruikers en ontwikkelaars. MixPay kan betaling, offerte en afwikkeling scheiden in de onderliggende laag, elke portemonneebetaling ondersteunen en drie afwikkelingsmodi bieden: individueel, ontwikkelaar en account met meerdere handtekeningen.
Honderden offline verkopers en online platforms werken samen met Mixpay om het gemakkelijker te maken om cryptocurrencies te ontvangen. Voor handelaren is het een goedkope manier om een breed scala aan grenzeloze diensten aan te bieden. Voor gebruikers is het een gebruiksvriendelijke betaaloplossing die veel handiger is dan de meeste andere betaalmethoden. MixPay streeft naar een flexibel Web3-betalingsprotocol met een flexibele API.
De MAS-goedkeuring vereist dat licentiehouders voldoen aan een hoge nalevingsnorm, waardoor de uitwisselingen en andere cryptoplatforms digitale betalingstokendiensten kunnen aanbieden. Bovendien zorgt het ervoor dat gebruikers veilige en conforme digitale activa en andere diensten krijgen. Canada is een van de meest cryptovriendelijke landen die de acceptatie van blockchain en digitale activa stimuleren. Wereldwijde cryptobedrijven zoals Huobi, Ripple, en FTX hebben achtereenvolgens de Canadese MSB-licentie verkregen die Canada binnenkomt. De ontwikkelingen op het gebied van compliance in de crypto-industrie markeren een nieuwe mijlpaal in het wereldwijde regelgevingslandschap voor cryptovaluta. In overeenstemming met de voorwaarden zal MixPay blijven onderzoeken en bijdragen aan het aanbieden van crypto-betalingsdiensten voor gebruikers in meer regio's en meer mensen helpen zo snel mogelijk te genieten van het gemak van Web3-betalingen.
MixPay-protocol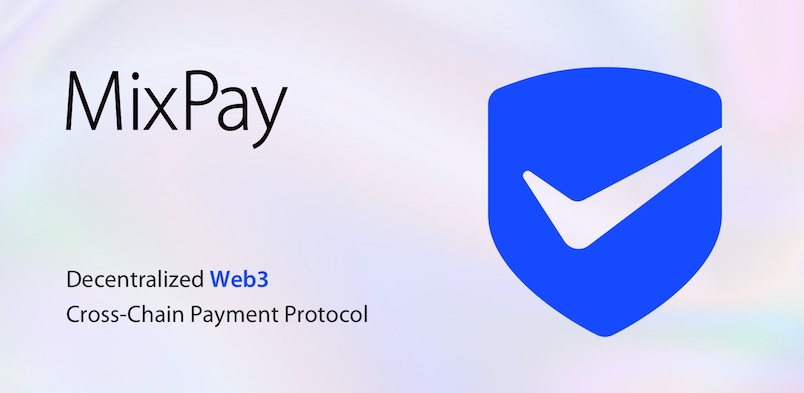 MixPay Protocol is een gedecentraliseerd web3 cross-chain betalingsprotocol, dat verschillende ketens, verschillende tokens, verschillende portemonnees en uitwisselingen verbindt, of het nu een on-chain portemonnee (MetaMask, Trust Wallet) of een gecentraliseerde portemonnee (Blockchain.com, BlockFi ), of uitwisselingen (Binance, Coinbase). Zolang ze toegang hebben tot het MixPay-protocol, kunnen ze hun gebruikers overal ter wereld veilige, eenvoudige en gratis betalingsdiensten aanbieden die zijn gemarkeerd door MixPay, zonder dat handelaren zich zorgen hoeven te maken over welke portemonnee of token de klant gebruikt om te betalen, net als wat Visa en Mastercard doen dat in het traditionele betalingsveld.