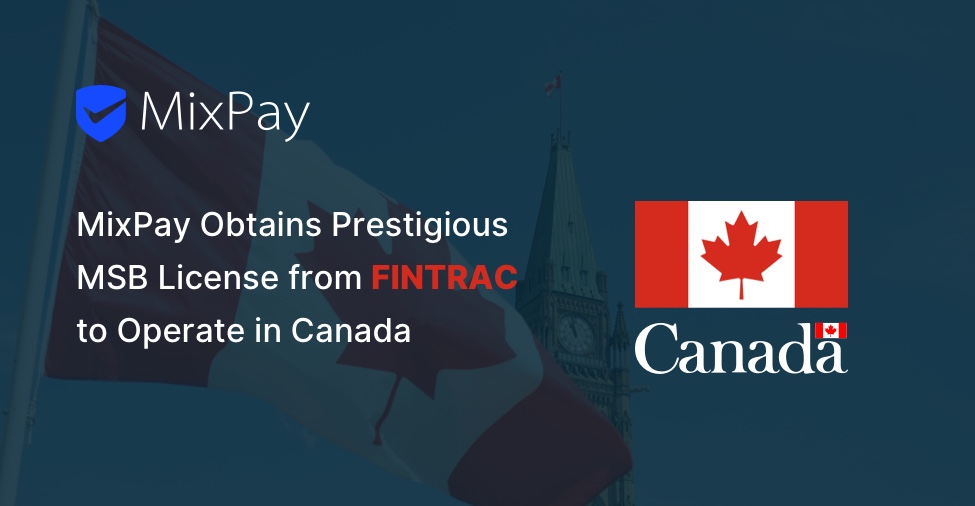 MixPay je od Centra za analizo finančnih transakcij in poročil (FINTRAC) pridobil licenco za poslovanje z denarnimi storitvami (MSB). Kanadska MSB licenca, ki jo je izdal FINTRAC, dovoljuje MIXPAY LTD. opravljati denarna nakazila in biti trgovec za devize, pa tudi za digitalne valute.
To je še en pomemben mejnik v poslovni globalizaciji in širitvi skladnosti MixPay, potem ko je pred dvema mesecema pridobilodobritev MSB s strani FinCEN za razvoj ameriškega trga. Kanadski bančni sistem velja za enega najbolj zanesljivih sistemov na svetu. Glede na to, da je Kanada med številnimi državami, v katerih se delež digitalnih nakazil povečuje, se zdi, da je v teku globalni premik k brezgotovinskemu gospodarstvu. Pridobitev kanadske licence MSB pomeni, da je MixPay dobil dovoljenje za zagotavljanje finančnih storitev in vstop na kanadski trg.
Licenco za podjetja z denarnimi storitvami (MSB) zahteva podjetje za skladnost z Zakonom o prihodkih od kriminala (pranje denarja) in financiranje terorizma (PCMLTFA) in povezanimi predpisi. Pomaga preprečevati pranje denarja in financiranje terorističnih dejavnosti v Kanadi. MixPay je vedno na prvem mestu skladnost. Prejem te licence in uspešna registracija poudarjata njegovo zavezanost k sodelovanju z regulatorji v jurisdikcijah, v katerih MixPay deluje po vsem svetu.
MixPay, ki temelji na omrežju Mixin Network , je kripto plačilni protokol, ki podpira poravnavo katere koli kriptovalute in fiat valute ter je prijazen do navadnih uporabnikov in razvijalcev. MixPay lahko loči plačilo, ponudbo in poravnavo v osnovnem sloju, podpira katero koli plačilo z denarnico in nudi tri načine poravnave: posameznik, razvijalec in račun z več podpisi.
Na stotine trgovcev brez povezave in spletnih platform je sodelovalo z Mixpay, da bi olajšali prejemanje kriptovalut. Za trgovce je to nizkocenovni način zagotavljanja širokega nabora brezmejnih storitev. Za uporabnike je to preprosta plačilna rešitev, veliko bolj priročna kot večina drugih načinov plačila. MixPay želi zagotoviti prilagodljiv plačilni protokol Web3 s prilagodljivim API-jem.
Odobritev MAS zahteva, da imetniki licenc izpolnjujejo visok standard skladnosti, kar bo borzam in drugim kripto platformam omogočilo, da ponujajo storitve digitalnih plačilnih žetonov. Poleg tega uporabnikom zagotavlja varna in skladna digitalna sredstva in druge storitve. Kanada je ena najbolj kripto prijaznih držav, ki spodbujajo sprejemanje blockchaina in digitalnih sredstev. Globalna kripto podjetja, kot so Huobi,, Ripple, in FTX, so zaporedoma pridobila kanadsko licenco MSB za vstop v Kanado. Razvoj skladnosti v kriptoindustriji pomeni še en mejnik v globalni regulativni pokrajini za kripto. V pogojih skladnosti bo MixPay še naprej raziskoval in prispeval k zagotavljanju storitev kriptoplačevanja za uporabnike v več regijah ter pomagal več ljudem, da čim prej uživajo v priročnosti plačevanja Web3.
Protokol MixPay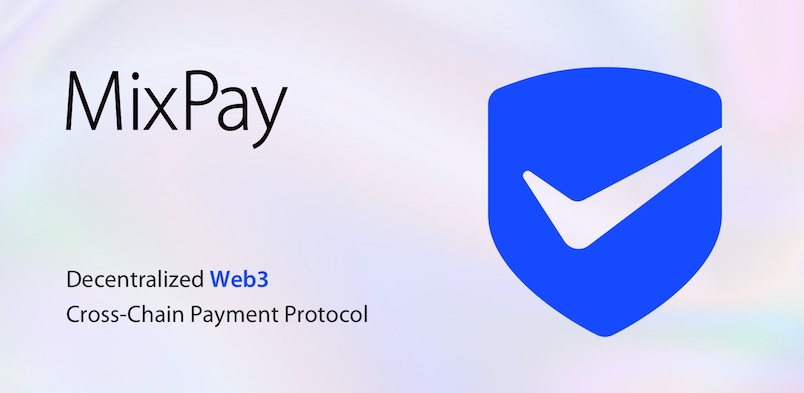 Protokol MixPay je decentraliziran medverižni plačilni protokol web3, ki povezuje različne verige, različne žetone, različne denarnice in menjalnice, ne glede na to, ali gre za denarnico v verigi (MetaMask, Trust Wallet) ali centralizirano denarnico (Blockchain.com, BlockFi). ) ali borze (Binance, Coinbase). Dokler imajo dostop do protokola MixPay, lahko svojim uporabnikom nudijo varne, preproste in brezplačne plačilne storitve kjer koli na svetu, ki jih označuje MixPay, ne da bi trgovcem bilo treba skrbeti za to, katero denarnico ali žeton stranka uporablja za plačilo, tako kot kaj Visa in Mastercard delujeta na tradicionalnem področju plačil.