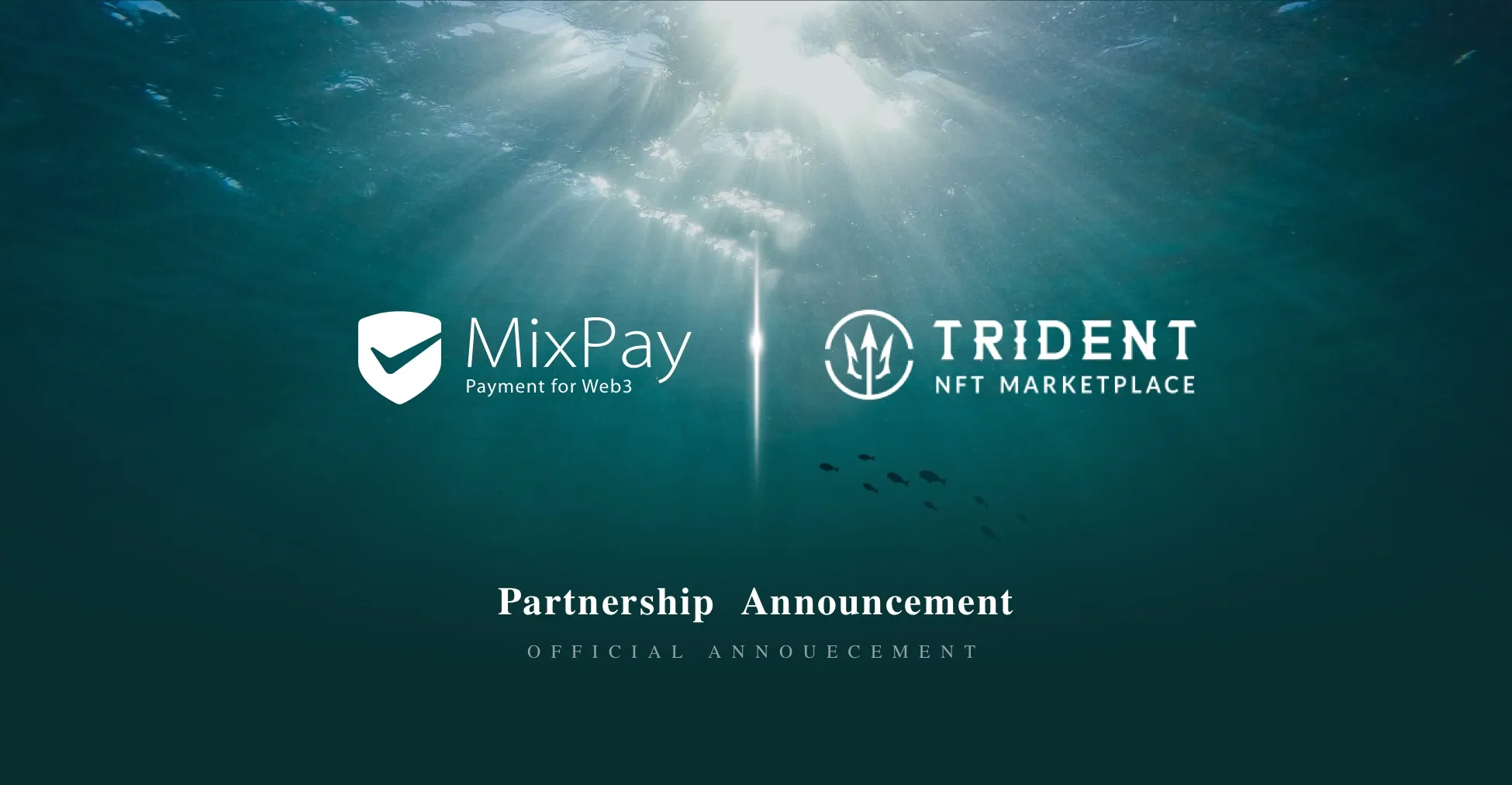 Z veseljem sporočamo, da je MixPay uradno dosegel dogovor o sodelovanju s Tridentom, vodilnim in enim najbolj kreativnih projektov, specializiranih za NFT.
Trident je tržnica NFT, ki je preprosta za uporabo za vsakega splošnega uporabnika, zgrajena na omrežju Mixin in jo poganja tehnologija MTG. Z naslednjimi tremi funkcijami je Trident najboljša tržnica NFT za vas, kjer lahko odkrijete, zbirate in prodajate svoje najljubše NFT:
Hitro in brez plina. V omrežju Mixin je prenos izjemno hiter in plina ne bomo zaračunali.
Varno. Sredstva so varno zaščitena s tehnologijo MTG.

Enostaven za uporabo. Uporabljajte ga kot običajno nakupovalno aplikacijo.

S tem sodelovanjem bodo uporabniki Tridenta lahko kupili NFT s katero koli kriptovaluto in katero koli denarnico. Ekipa Trident verjame, da bo to sodelovanje izboljšalo funkcije Tridenta z zagotavljanjem najboljših izkušenj za uporabnike pri nakupu NFT-jev.

Širitev na NFT pomeni logičen naslednji korak za projekt MixPay, kar je močan dokaz, da je MixPay robusten prehod za kripto plačila, ki zagotavlja prilagodljiv prehod za plačila Web3 s prilagodljivim API-jem. S svojim zmogljivim API-jem lahko MixPay uporabnikom pomaga pri izpolnjevanju potreb različnih scenarijev. Doslej se je MixPay povezal z več panogami s stotinami partnerjev, tako trgovcev brez povezave kot spletnih platform . Za trgovce brez povezave, kot sta Yadawei Ceramics Studio in Bake N More ; Za spletne platforme, kot sta OhMy in OptionDance .
Kako kupiti NFT z MixPay na Trident?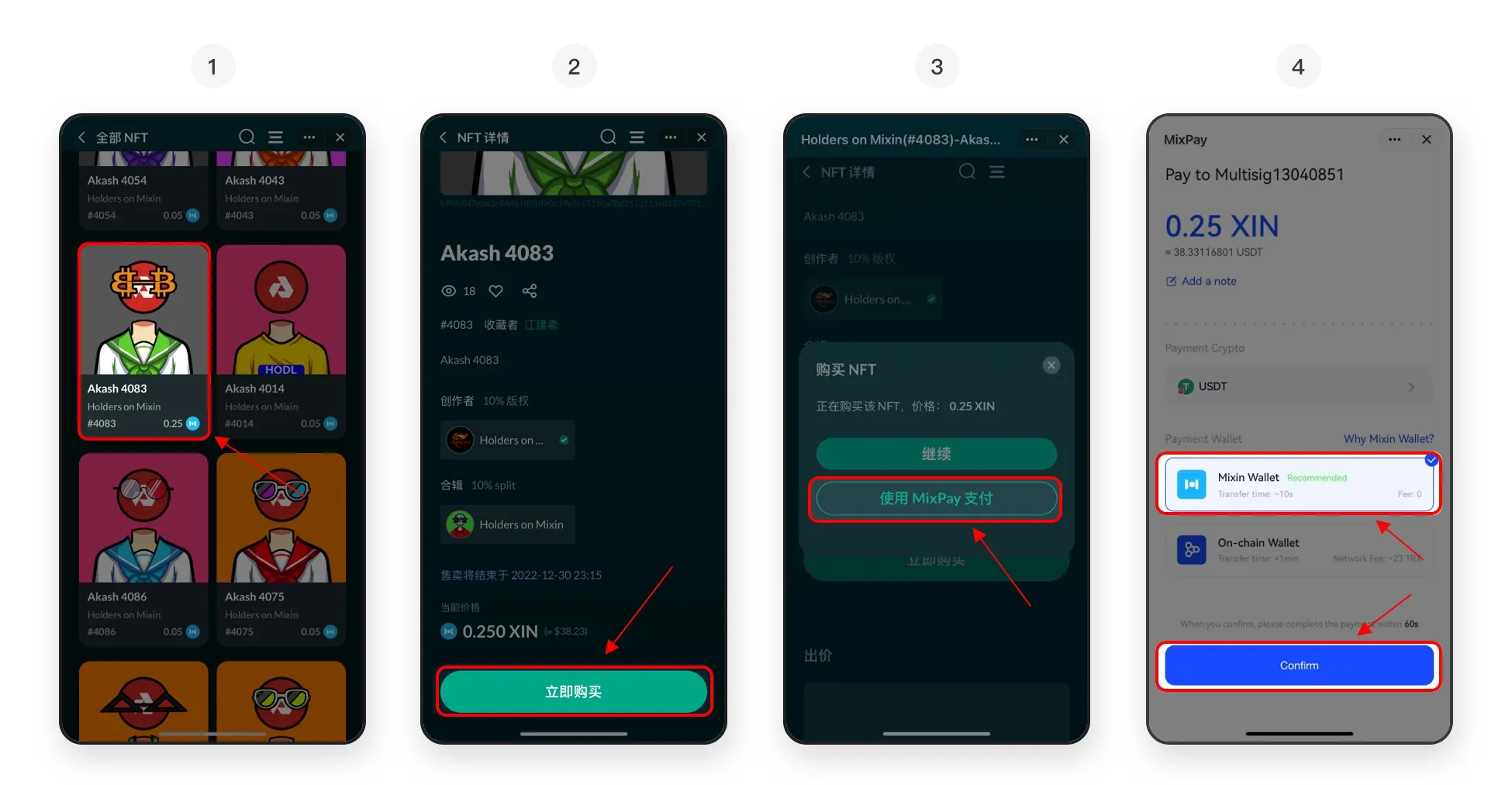 Prvi korak: odprite domačo stran Trident , izberite NFT, ki vam je všeč, in ga kliknite.
Drugi korak: Pritisnite gumb "kupi" in nadaljujte na blagajno.
Tretji korak: V razdelku način plačila izberite način plačila MixPay.
Četrti korak: Po izbiri načina plačila MixPay zaključite plačilo naročila.
Izberite sredstvo, ki ga želite plačati, izberite Mixin ali katero koli drugo denarnico v verigi kot način plačila in kliknite gumb Plačaj, da sprožite plačilo. To je to! Sledite zgornjim štirim korakom, da postanete lastnik svojega najljubšega NFT zdaj!
O MixPay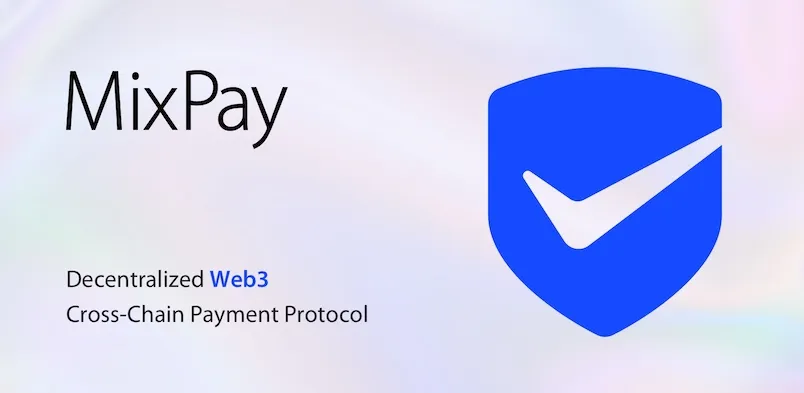 MixPay je decentralizirana platforma za plačilne storitve s kriptovalutami, zgrajena na omrežju Mixin. MixPay lahko loči plačilo, ponudbo in poravnavo v osnovnem sloju, podpira katero koli poravnavo v kriptovaluti in fiat valuti, podpira katero koli plačilo z denarnico in zagotavlja tri načine poravnave: posameznik, razvijalec in račun z več podpisi. MixPay, plačilo za Web3.