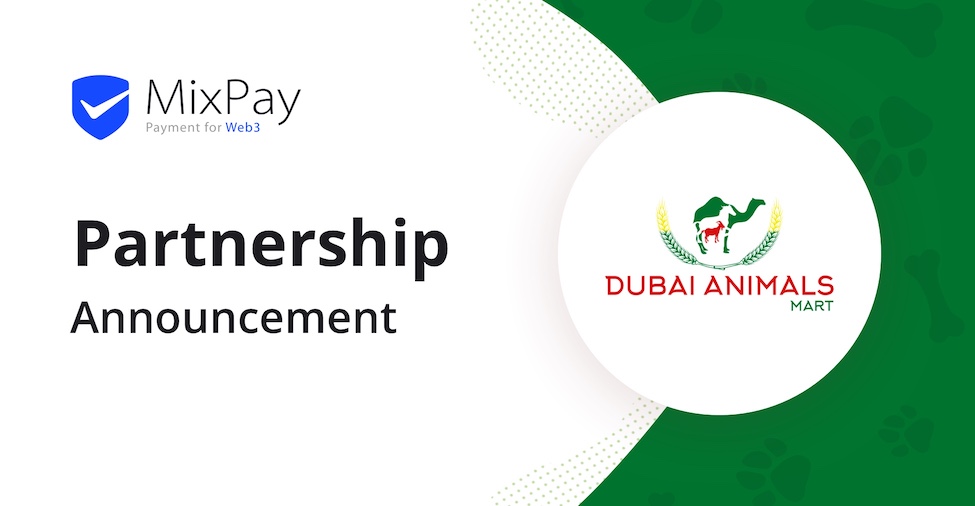 Ponosno oznanjamo Dubai Animals Mart kot še enega od partnerjev spletne trgovine MixPay z vtičnikom MixPay Shopify, ki strankam omogoča nakup hrane za živali s katero koli kriptovaluto. Ali ni čudovito kupiti pasjo hrano za vašo čudovito SHIBA s SHIBcoin? In to ni dovolj. V Dubai Animals Martu ne morete kupiti le pasje hrane, ampak tudi druge živali, kot so kamele, krave, koze, konji, ovce, ptice, mačke, ribe in seznam se še povečuje.
Vtičnik MixPay Shopify lahko zagotovi načine kripto plačila za trgovine Shopify trgovcev. S štirimi koraki v procesu uvajanja lahko spletne trgovine svojim strankam zagotovijo hitrejšo in enostavnejšo možnost plačevanja. Z razcvetom kriptovalut vse več trgovcev sprejema kriptovalute kot plačilno sredstvo. Ne le zaradi velikih prednosti kriptovalut, ampak tudi zato, ker sprejemanje kriptovalut pomeni izboljšanje plačila.
To partnerstvo strankam Dubai Animals Marta omogoča plačilo s tremi načini plačila. Prav tako velja omeniti, da to sodelovanje prinaša odlično udobje za spletno nakupovanje brez kreditnih kartic. Poleg tega lahko plačate v kateri koli kriptovaluti s katero koli denarnico. Še posebej si lahko omislite preprosto in za uporabo enostavno denarnico Mixin Messenger , prek katere so vsi prenosi brezplačni.
O Dubai Animals Mart
Dubai Animals Mart je eno od novih priljubljenih spletnih mest, ki je nedavno odprlo trgovino v ZAE z načrti za širjenje svojih dejavnosti po regiji MENA. Dubai Animals Mart je bil namenjen doseganju čim večjega števila ljudi, da bi olajšali postopek naročanja živalske hrane v ZAE. Najprej se je začelo kot strasten projekt med univerzo, ki je pomagal preživeti družino, in je dal motivacijo, da trdo delo in navdih pretvorim v cvetočo spletno trgovino. Mohammed Abdulkhaleq, ustanovitelj Dubai Animals Mart, komentira:
Predani smo temu, da vam ponudimo najboljše izdelke, uvedene v sodelovanju z vodilnimi tovarnami krme za živali tukaj v ZAE, s poudarkom na odličnosti, storitvah za stranke in edinstvenosti izdelka. Zdaj oskrbujemo stranke po vsej ZAE in smo navdušeni, da smo del industrije storitev hrane za živali in pomagamo pri razvoju trga živine ZAE.
Nakupujete lahko po kategorijah, kot so hrana za pse, hrana za ribe in dodatki za hišne ljubljenčke; Nakupujete lahko tudi po znamkah, kot so APPLAWS, ARMITAGE in ROYAL CANIN. Če želite svojega psa razvajati z okusnimi dobrotami, pridite v Dubai Animals Mart, vaš vir številka ena za vse živalske prehrambene izdelke v ZAE. Brezplačna dostava za naročila nad 100 AED (samo znotraj ZAE).
Kako kupiti hrano za živali na Dubai Animals Mart s plačilom MixPay?
1. korak : Vstopite na domačo stran Dubai Animals Mart , izberite želeni izdelek in kliknite gumb »DODAJ V KOŠARICO«.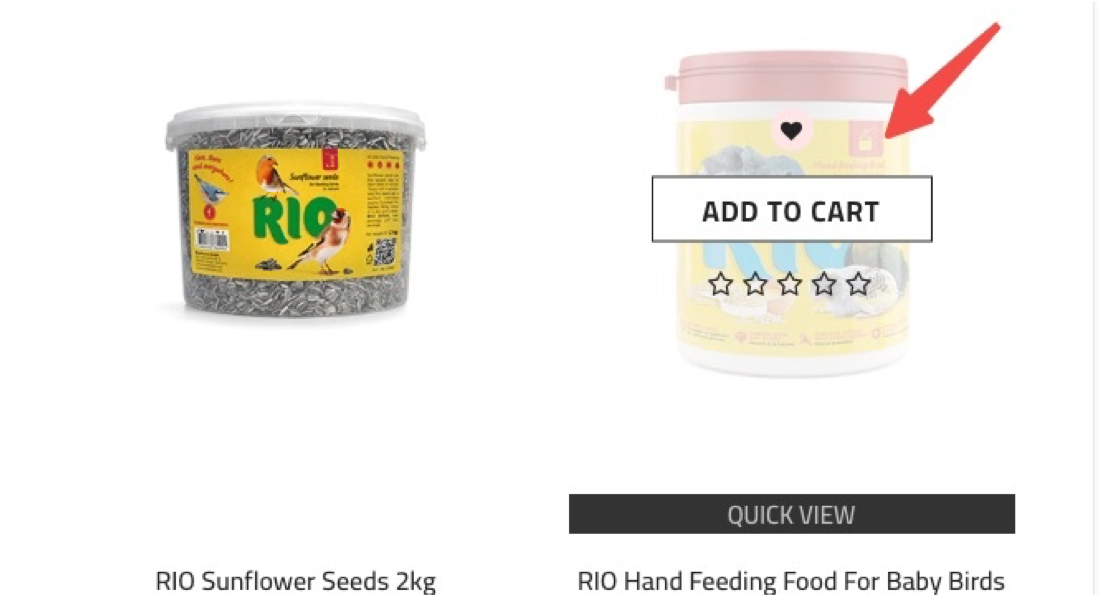 2. korak : Izberite količino in nadaljujte na blagajno.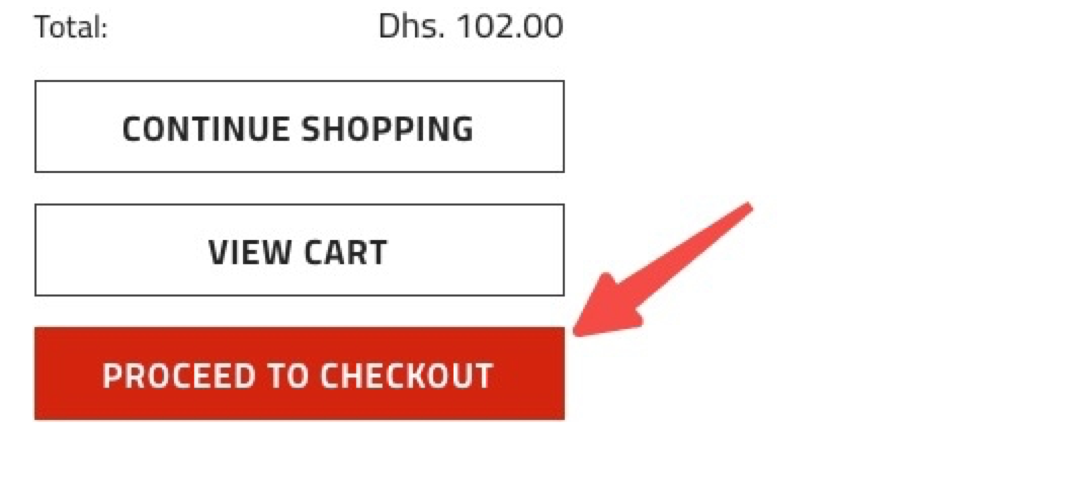 Korak 3 : V razdelku način plačila izberite način plačila MixPay.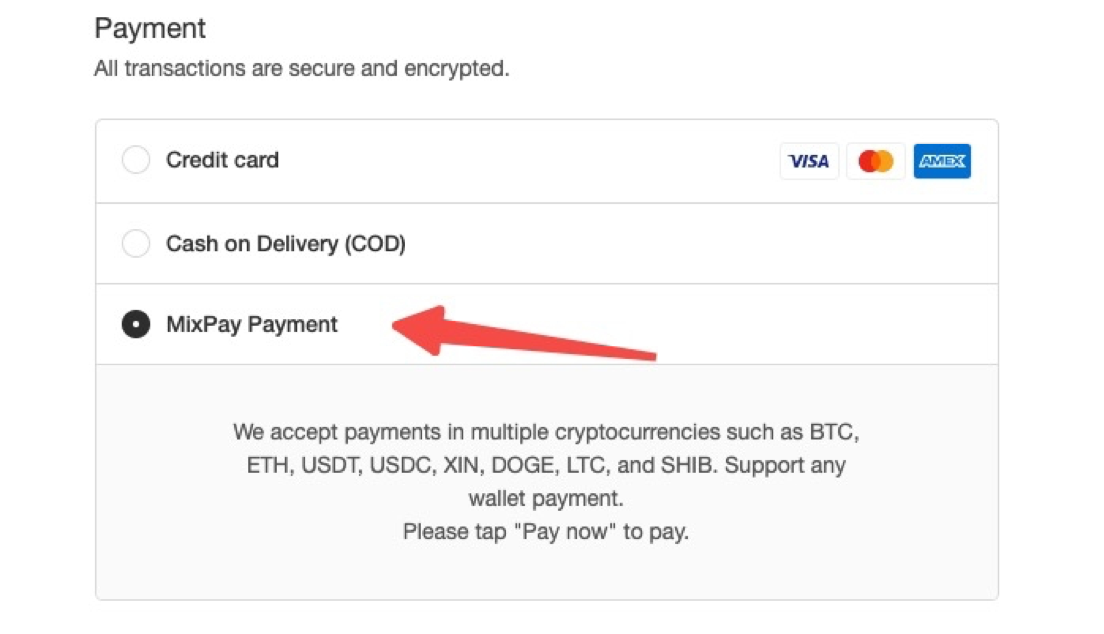 4. korak : Po izbiri načina plačila MixPay zaključite plačilo naročila.
Izberite sredstvo, ki ga želite plačati, nato pa izberite Mixin ali katero koli drugo denarnico v verigi kot način plačila in kliknite gumb Plačaj, da začnete plačilo.
Sledite zgornjim štirim korakom in poiščite okusno hrano za svoje živali!
O MixPay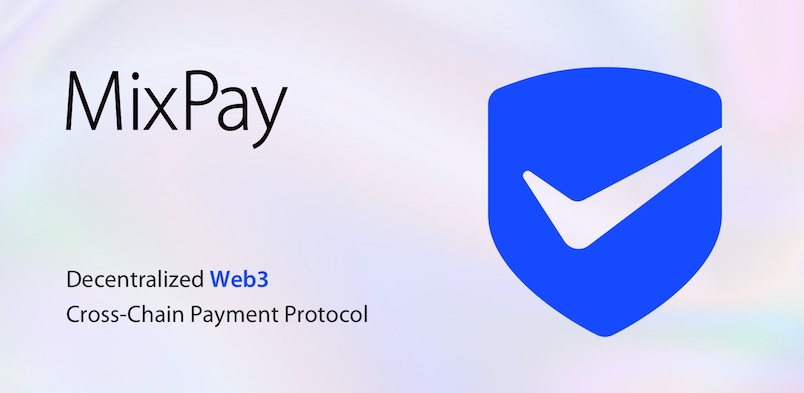 MixPay je decentralizirana platforma za plačilne storitve s kriptovalutami, zgrajena na omrežju Mixin. MixPay lahko loči plačilo, ponudbo in poravnavo v osnovnem sloju, podpira katero koli poravnavo v kriptovaluti in fiat valuti, podpira katero koli plačilo z denarnico in zagotavlja tri načine poravnave: posameznik, razvijalec in račun z več podpisi. MixPay, plačilo za Web3.