MixPay is thrilled to present an updated checkout page with support for Binance Pay and FTX US Pay (FTX Pay will be available soon), and MixPay+ is added with expanded wallets. With this update, your payment processing will become more comfortable. Previously, MixPay optimized the authorization login mechanism to support multi-device login and enabled users to use MixPay on Mobile and Desktop. The checkout upgrade is reflected on both Mobile and Desktop; continue to read for the new design in detail.
This is what it looks like on the Desktop browser: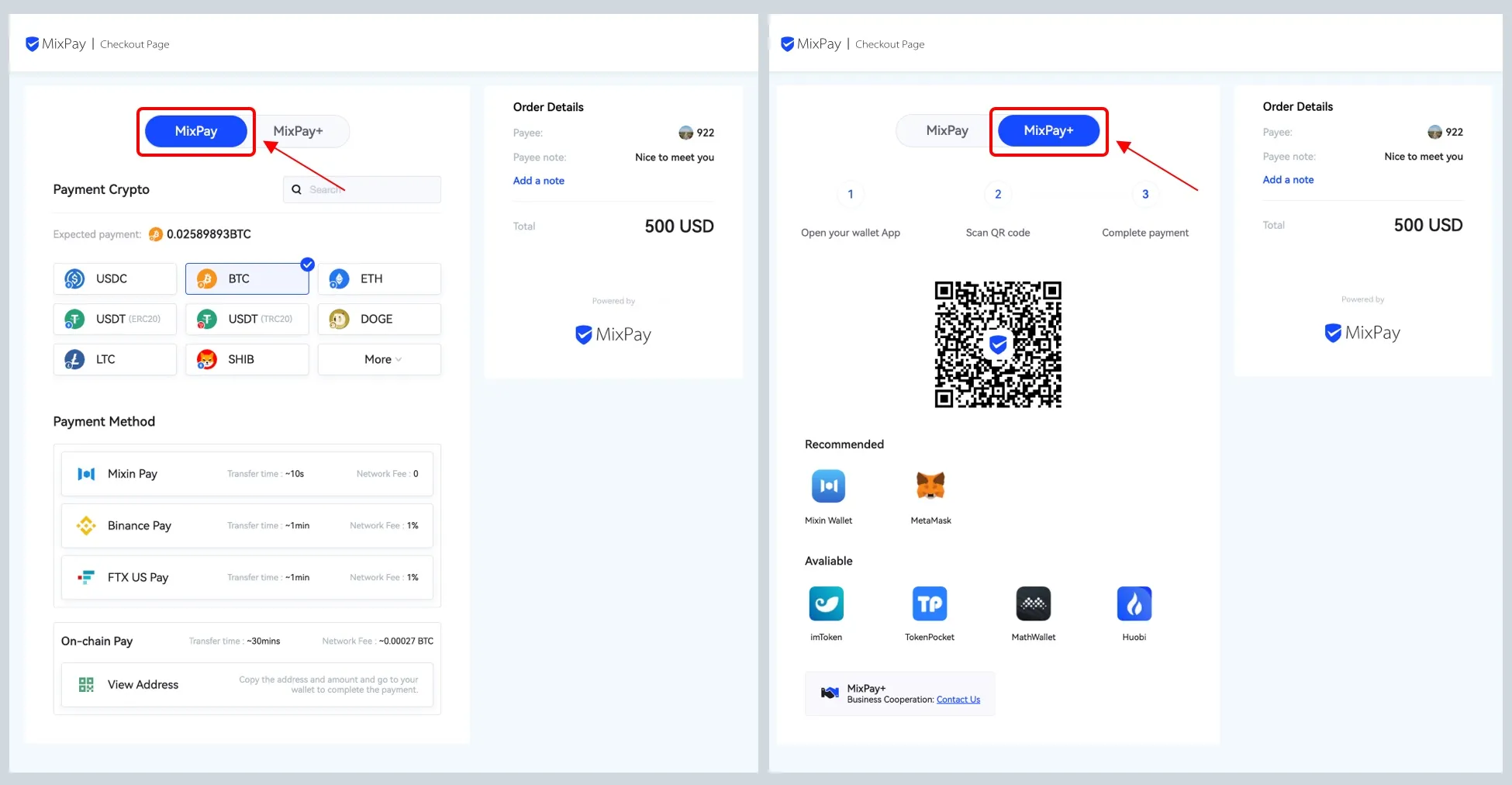 You may find two separate pages, MixPay and MixPay+. On the Payment Method, you may find the four payment methods on page MixPay:
Mixin Pay: Zero gas fee is required when making transactions within Mixin Messenger.
Binance Pay: To pay with Binance Pay, you must have a Binance account with no less than 0.5 USD cryptocurrency.
FTX US Pay: To pay with FTX US Pay, you must have an FTX US account with no less than 0.1 USD of cryptocurrency. (FTX Pay soon...)
On-chain Pay: On-chain Pay is updated to provide wallet plugins. Besides copying the address and the amount to any wallet for the On-chain payment, paying directly through a PC browser is available now. When you choose ETH or ERC-20 tokens as payment crypto, you may directly connect your wallet, like "logging in" to Web3. Metamask, Coinbase Wallet, and WalletConnect are available at the moment.
This demo shows how you can pay directly via MetaMask on a PC browser:
On the Payment Method, you may find the expanded wallets on page MixPay+:
MixPay+: MixPay+ is designed to empower each app. To pay with MixPay+ is as easy as scanning the QR code to complete the crypto payment. Any wallet or exchange can corporate with MixPay to provide the ultimate payment experience for users. So far, Mixin Wallet, MetaMask, imToken, TokenPocket, MathWallet, and Huobi are available.
This demo shows how you can use MixPay+ to pay with ETH using the MetaMask wallet. It is very simple and requires minimum effort. Try it out for yourself!
This is what it looks like on the Mobile device: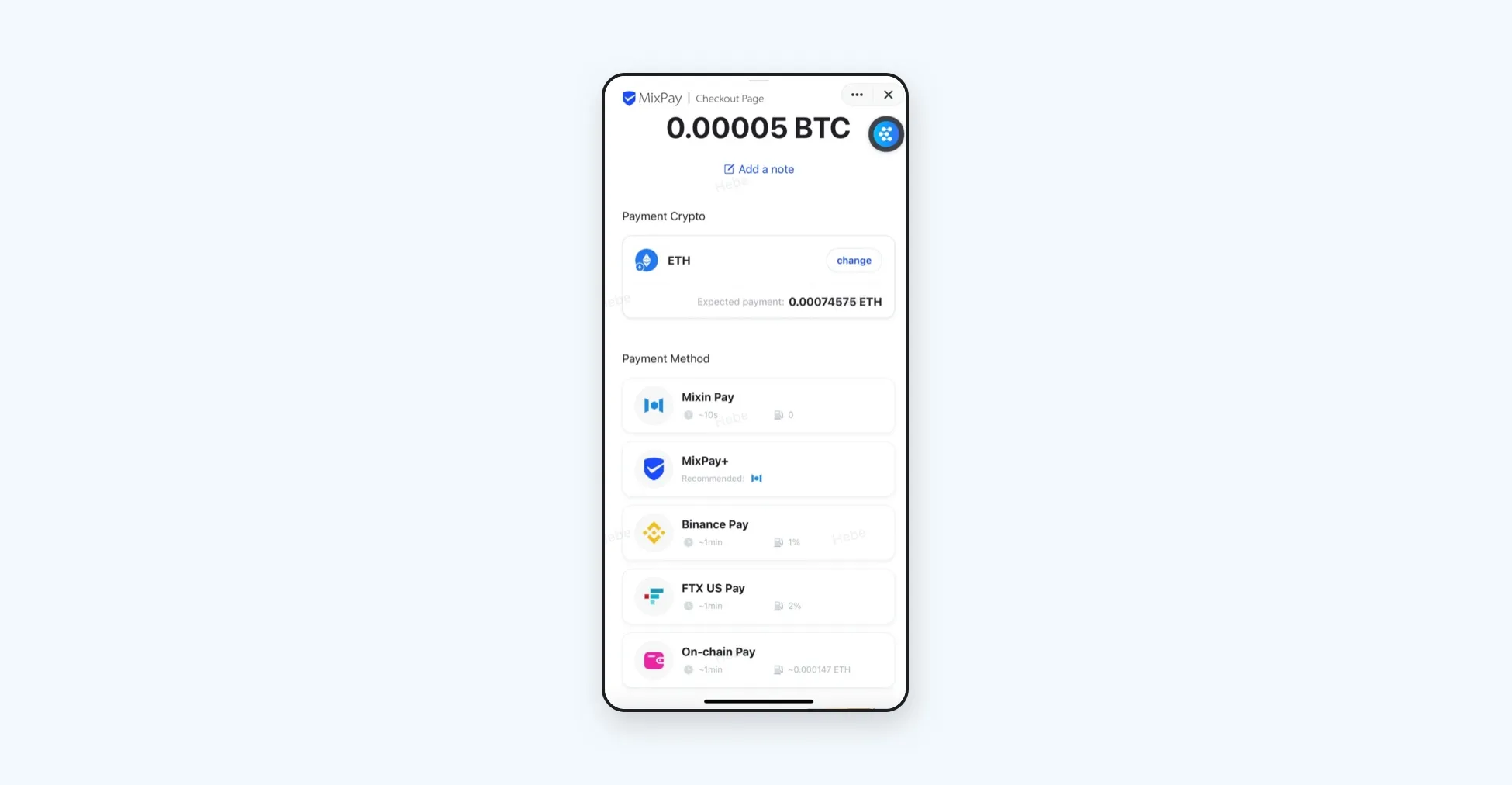 You may find the five payment methods on the same page, which differs from what is on the Desktop browser. Also, on the Mobile checkout page, the Mixin wallet is currently available in MixPay+, different from the multiple wallets supported on the Desktop device.
These integrations greatly improve the payment experience and allow MixPay to reach a wider audience of Crypto users. Thorb, the Founder and CEO of MixPay, speaks on this proud moment,
"The ultimate payment experience is our core competence. We will continue developing this product, making users experience the ultimate in payment, enjoying the best it can be."
MixPay Protocol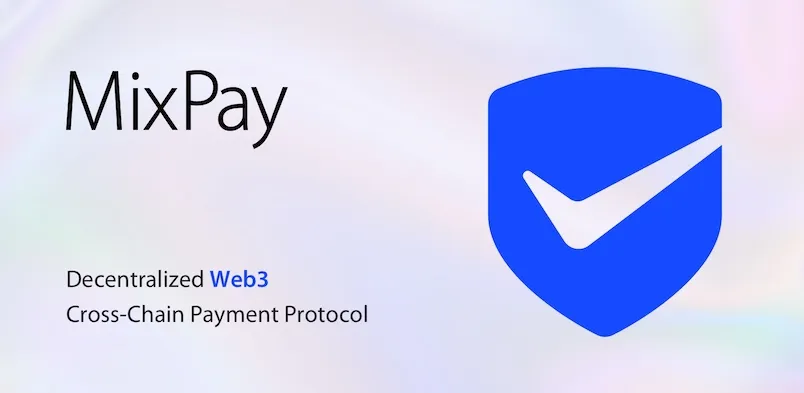 MixPay Protocol is a decentralized web3 cross-chain payment protocol, which connects different chains, different tokens, different wallets, and exchanges, whether it is an on-chain wallet (MetaMask, Trust Wallet) or a centralized wallet (Blockchain.com, BlockFi), or exchanges (Binance, Coinbase). As long as they access the MixPay Protocol, they can provide their users with safe, simple, and free payment services anywhere in the world marked by MixPay, without merchants needing to care about what wallet or token the customer uses to pay, just like what Visa and Mastercard do in the traditional payment field.