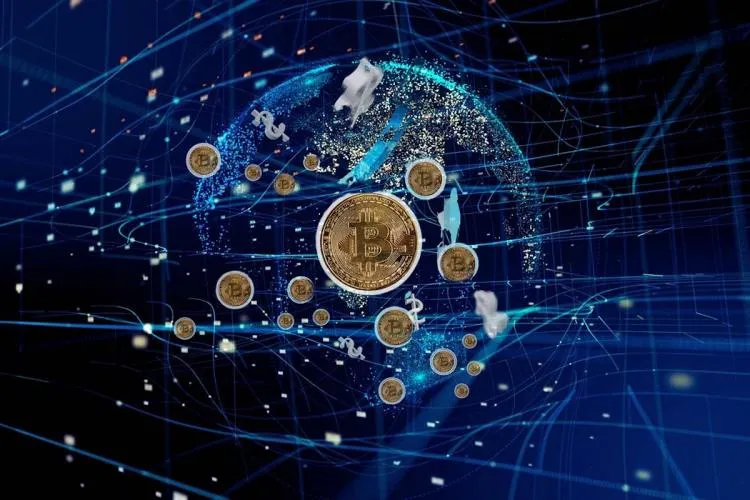 Despite the current downturn in the crypto market, the number of merchants accepting crypto payments is still growing because cryptocurrencies as payments can benefit consumers and merchants significantly. Accepting crypto payments is the development and progress of payment. Although cryptocurrency has undeniable drawbacks, such as the high risk of market volatility, many crypto payment providers have invested resources to develop payment techniques for businesses and consumers that can enjoy the benefits of crypto without being affected by market volatility. Today we'll look at offline stores and online platforms where you can easily spend money with cryptocurrency.
Offline stores that have embraced bitcoin(BTC) and other cryptocurrencies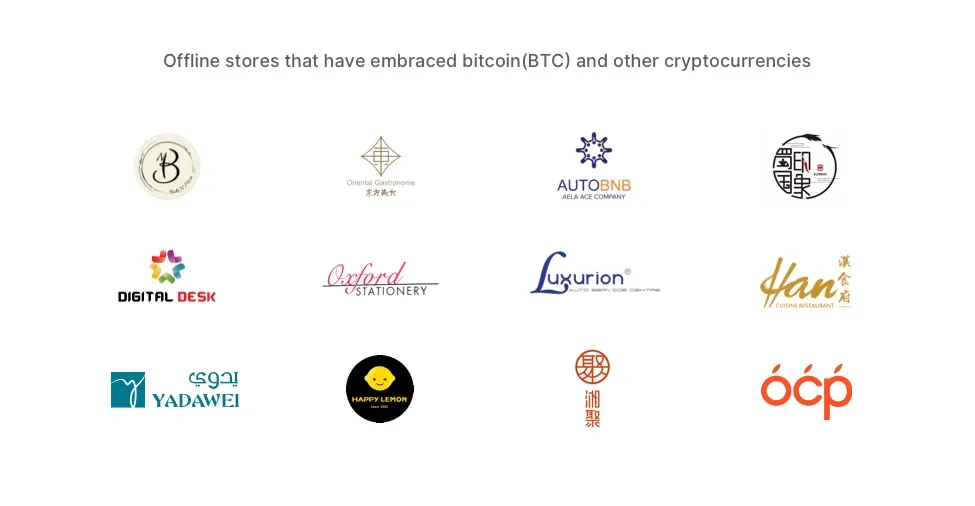 1. Bake N More
Bake N More – which is a new one-of-its-kind factory and retail café – has become the first café to accept payments in cryptocurrency for their fresh baked goods without incurring any transaction fee in Dubai. For now, Bake N More accepts cash and card payments as well.
2. Oriental Gastronome
Oriental Gastronome is the first Chinese restaurant to accept cryptocurrency payments in Dubai. Its vision is to provide customers with Cantonese cuisine. You can find Chinese food made very authentically at this restaurant. Currently, customers can pay with Bitcoin(BTC), Ethereum(ETH), Tether USDT, and also popular cryptocurrencies such as SHIB, DOGE, etc.
3. AUTOBNB
AUTOBNB is another excellent place on the list where you can pay in cryptocurrencies. AUTOBNB is a one-stop-shop Auto Care Concierge Service Company that helps customers to live a stress-free life with their vehicle problems of the engine in Dubai. Customers can pay for car services with crypto in the store.
4. SUNWAY RESTAURANT
Sunway Restaurant is one of the restaurants to accept cryptocurrencies in Dubai, and it's also the first restaurant to provide crypto payments in International City. The cooks that are working in Sunway Restaurant know that the varied use of fresh rice products, animal meat, and colorful vegetables will make up tastes just as distinct.
5. DIGITAL DESK
DIGITAL DESK is a young and vibrant company with a lot of experience in many different services and product offerings, such as printing & marketing essentials, digital printing & signage, backdrops & exhibitions, etc. With the impact of blockchain technology, the printing shop DIGITAL DESK partners with MixPay to accept cryptocurrency payments.
6. Oxford STATIONERY
Oxford STATIONERY is a stationery store in Dubai. Oxford STATIONERY now accepts customers to pay the bill with Bitcoin(BTC) or any other crypto using any wallet. Customers can purchase office suppliers, school stationery, books and toys with any crypto & any wallet, all in one place - Oxford STATIONERY!
7. Luxurion FF
Luxurion FF is a repair and maintenance service provider for luxury and premium cars. Luxurion FF provides professional solutions for your auto maintenance experience, and now it enable their customers to pay with any crypto for luxury car repair and maintenance services. The adoption of cryptocurrency payments brings more convenience to customers and is but icing on the cake.
8. Han Cuisine Restaurant
Established in 2016, Han Cuisine Restaurant opened its first branch in Dubai's Business Bay area and with the growing demand for authentic restaurant quality Chinese food, they opened their second branch in The Springs Souk in 2018. Han Cuisine specializes in authentic Cantonese cuisine, enhanced with popular selections found in Southeast Asia. Customers can now choose from their wide-ranging menu and get amazing discounts and offers, and enjoy the best crypto payments experience in the meanwhile at Han Cuisine Restaurant.
9. Yadawei Ceramics Studio
Yadawei is a dedicated studio for pottery and ceramics in Dubai, UAE. It offers customers various classes, including Hand Building, Pottery On The Wheel, Kids Classes, and Bisque Painting. Handmade ceramics are becoming a booming creative industry worldwide. As more people are tired of stereotyped products and want to highlight their differences through some personalized niche products, such as handmade ceramics, and return to a life close to nature. Try something different at Yadawei Ceramics Studio and pay with crypto easily here.
10. Happy Lemon
Happy Lemon was founded in 2006, the store in International City Shop 8 now accepts payments in digital currencies in its stores using MixPay in Dubai. Happy Lemon simply offers the yummiest drinks and always products the best quality tea in the world!
11. XIANG JU
XINAG JU is a traditional Hunan cuisine restaurant and now allows you to pay with Bitcoin, Ethereum, Litecoin, and other cryptocurrencies. It is a Chinese restaurant in Dubai. Consumers can pay for some yummy food and beverages with cryptocurrency, they can choose to pay the bill with crypto by MixPay QR code after they enjoy a meal at XIANG JU restaurant.
12. Orange City Properties
Orange City Properties can provide crypto investors with a chance to purchase property in Dubai. It is a real estate company specializing in buying and selling properties and rentals. Established in 2022 and located in Dubai, the company is joining a growing number of crypto real estate embracing cryptocurrencies like bitcoin as a payment option for their clients.
Online platforms that have embraced bitcoin(BTC) and other cryptocurrencies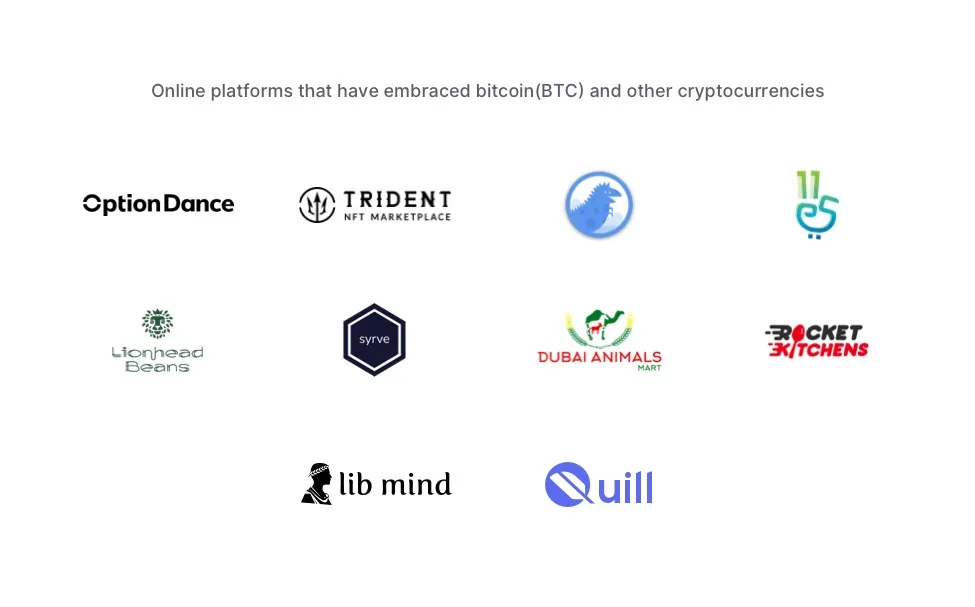 1. OptionDance
OptionDance is an innovative global company with a focus on reinventing options trading for investors and making everyone can trade options like gurus. OptionDance integrates MixPay as a means of payment; it will accept payment in a range of cryptocurrencies that include Bitcoin(BTC), Ethereum (ETH), XIN, Dogecoin (DOGE), Litecoin (LTC), SHIB, USDC, USDT, and more.
2. Trident
Trident is a leading and one of the most creative projects specializing in NFT, built on Mixin Network and powered by MTG technology. As an easy-to-use NFT marketplace for every general user, Trident chose to enhance the features of Trident by providing the best experiences for users to buy NFTs. Trident users are now able to buy NFTs with any crypto & any wallet.
3. OhMy.xin
OhMy.xin is a membership platform where you can build an awesome community in Mixin. It provides community tools for content creators to run a high-quality community and connect with fans. Community operation and fan management are simpler. OhMy.xin realizes the potential for crypto in the future, making payments faster, more secure, and zero commission fees with MixPay in Minxin on a global scale. OhMy.xin accepts payment in a range of cryptocurrencies that include Bitcoin(BTC), Ethereum (ETH), XIN, Dogecoin (DOGE), Litecoin (LTC), SHIB, USDC, USDT, and mAED.
4. E11 Online Store
E11 Online Store offers a wide variety of products such as Skin Care products, Makeup products, and even Men Care products. E11 Store is expected to attract more customers of crypto enthusiasts after applying more modern payments to its website. Customers can now pay with any crypto directly on their website.
5. Lionhead Beans
Lionhead Beans is an online store that offers speciality coffee beans of the highest quality and it accepts any crypto for purchasing specialty coffee . Lionhead Beans has been a purveyor of such high quality coffee since 2019. Founded by Shirin Van Dort, an SCA-certified Sensory Skills Professional, the brand has been serving a very discerning list of clientele who truly appreciate high quality single origin coffee beans which are roasted upon order and delivered fresh to ensure the quality of the coffee is second to none.
6. Syrve
Syrve, recently known as iiko provides reliable All-in-One Cloud-based POS and management solutions used in many different businesses: from small bars and coffee shops to large restaurant chains. With the most advanced restaurant technology solutions, Syrve is trusted by over 6 000 F&B businesses worldwide, including PAPA JOHN'S, Le Pain Quotidien, middle-eastern players L'eto, Gourmet Gulf, Bulldozer Group, Lincoln Hospitality, and many others. Syrve POS now allows merchants to accept cryptocurrency payments from customers' digital wallets.
7. Dubai Animals Mart
Dubai Animals Mart is one of the new hot websites which has recently opened shop in the UAE with plans to spread its operations across MENA region. Dubai Animals Mart has been intended to reach out to as many people as possible to ease the process of ordering animal food needs in the UAE. Dubai Animals Mart now allow customers to buy animal food with any crypto. In Dubai Animals Mart, you can not only buy dog food but also other animals like Camels, Cows, Goats, Horses, Sheep, Birds, Cats, Fish and the list keeps growing.
8. Rocket Kitchens
Rocket Kitchens is a chain of successful virtual restaurants with a wide portfolio of new projects and cuisines, including Beirut Street Food, Taj Al Mandi and Doge Burger. Rocket kitchens launches the crypto payment solution for all its brands. As one of its brands, Doge Burger is the chain's first crypto-based hospitality concept that will enable consumers across the UAE to order and pay for their meal with digital currency.
9. Libmind
Libmind is an easy-to-use platform that helps people build their online library, support for accurate multi-language translation of Korean, Japanese, Chinese, German, Spanish, English, etc., and a wide variety of top seller ebook formats(txt, audio, epub, mobi, etc). Customers can create an online personal library under your whole control or customize a multi-language Ebook Translation service with Dogecoin(DOGE) and any other cryptocurrencies.
10. Quill
Quill a blockchain writing platform built on Mixin Network. The biggest difference between Quill and other blockchain platforms such as Mirror.xyz is that Quill introduces an early reader rewards mechanism. On this platform, writers can monetize valuable and good content into bitcoins, and readers can be consistently rewarded for the spread of good content. And readers on Quill can now pay for their favorite article with any cryptocurrency.
Cryptocurrency has become a commonly used mode of payment in the financial world. The importance of cryptocurrencies like Bitcoin is known to all. Every day it is emerging as a thriving technology that eliminates human involvement, increases transparency, and reduces the chances of hacks and scams. Spending Bitcoin is becoming easier and easier, with global merchants accepting it as a payment method. Those mentioned above are some of the popular businesses that have taken up crypto payments and increased customer experience; you will quickly find out your favorite store, restaurant, or company to spend your digital money to be a consumer advancing with time.
About MixPay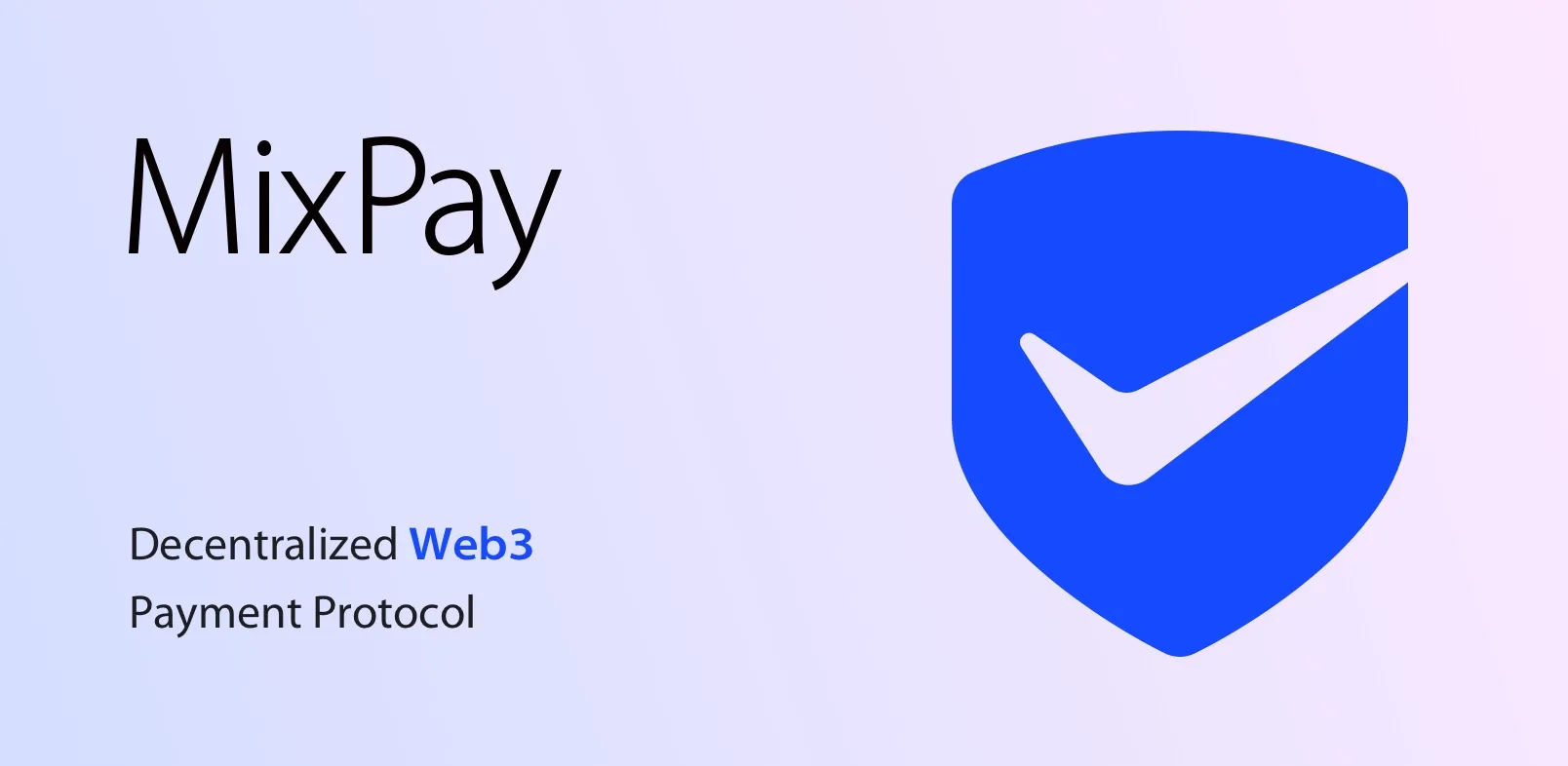 MixPay Protocol is a decentralized web3 cross-chain payment protocol, which connects different chains, different tokens, different wallets, and exchanges, whether it is an on-chain wallet (MetaMask, Trust Wallet) or a centralized wallet (Blockchain.com, BlockFi), or exchanges (Binance, Coinbase). As long as they access the MixPay Protocol, they can provide their users with safe, simple, and free payment services anywhere in the world marked by MixPay, without merchants needing to care about what wallet or token the customer uses to pay, just like what Visa and Mastercard do in the traditional payment field.