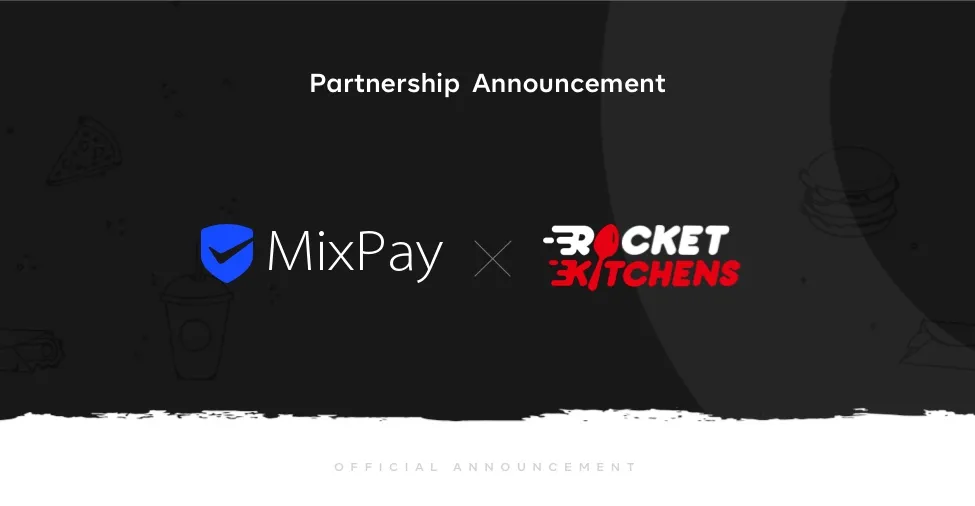 MixPay is pleased to announce its collaboration with Rocket Kitchens, a chain of successful virtual restaurants with a wide portfolio of new projects and cuisines, including Beirut Street Food, Taj Al Mandi and Doge Burger. After successful integration with MixPay, Rocket kitchens is now confident in launching the crypto payment solution for all its brands. As one of its brands, Doge Burger is also the first crypto-based restaurant in Dubai. Integrating MixPay will enable crypto enthusiasts to easily order their favorite burgers using Bitcoin(BTC) and other cryptocurrencies from Doge Burger.
Customers can now place direct orders through this link with cash, credit/debit card, and crypto payment supported by MixPay. MixPay is a flexible Web3 payment gateway that supports any wallet on the payment side, including Mixin wallet, MetaMask, and imToken. After integrating with MixPay API, customers can pay the bill with any crypto; Doge Burger can settle in any cryptocurrency or fiat. Customers and Doge Burger don't have to bear cryptocurrency volatility risk as the value is always based on real-time value.
Rocket Kitchens seeks to contribute to the UAE's rising use of cryptocurrencies by accepting all major crypto coins. This collaboration is further proof of its determination. The menu of Doge Burger features a selection of delicious American classics, including Doge Burger Chicken and Doge Burger Beef, and for connoisseurs, mushroom and Swiss burgers are sure to be a hit. With the MixPay technology, customers can purchase favorite items from the list and pay with any digital currency such as Bitcoin BTC, Ethereum ETH, Binance Coin BNB, Ripple XRP, Tether USDT, Shiba Inu SHIB, and of course, Dogecoin.
Moreover, through this collaboration, MixPay and Rocket Kitchens will no doubt help each other by expanding the former's presence in the cryptocurrency industry, while the other can offer its customers richer payment methods including any cryptocurrency payments. It's worth noting that MixPay offers a variety of tools that can help merchants to accept Bitcoin and any other cryptocurrencies. By using MixPay, businesses can gain a crypto payment gateway that will be easy to use, trust, and convenient for them and their customers.
About Doge Burger
Doge Burger is officially launched in the UAE and is the first online, e-commerce platform inspired by the popular Doge meme. Launched by Rocket Kitchens, a chain of successful virtual restaurants with a wide portfolio of new projects and cuisines, Doge Burger is the chain's first crypto-based hospitality concept that will enable consumers across the UAE to order and pay for their meal with digital currency.
How to order direct from Doge Burger with any cryptocurrency using the MixPay Payment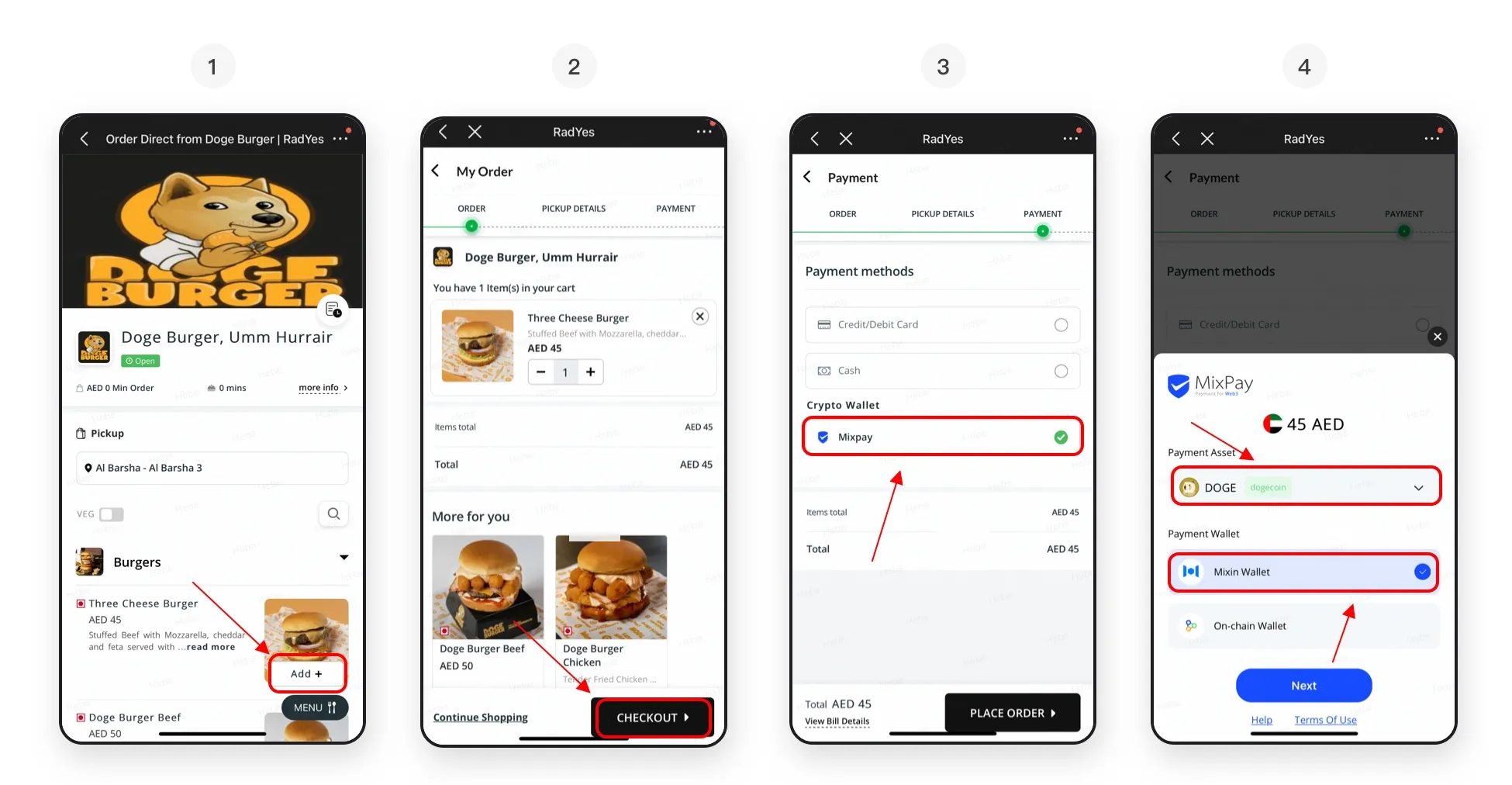 Ordering delicious food from Doge Burger that accept Dogecoin(DOGE) and any other cryptocurrencies becomes easy and convenient. Follow the detailed guide to order your favorite & the best burger ever made in Dubai & pay with your CRYPTO.
Step 1: Enter the Doge Burger homepage, select the item you like, and ADD TO CART.
Step 2: Confirm items in your cart and proceed to checkout.
Step 3: In the payment method section, select the MixPay payment method.
Step 4: Complete the order payment after selecting the MixPay payment method.
Select the asset to be paid, choose Mixin or any other On-chain Wallet as the payment method and click the Pay button to initiate payment.
About MixPay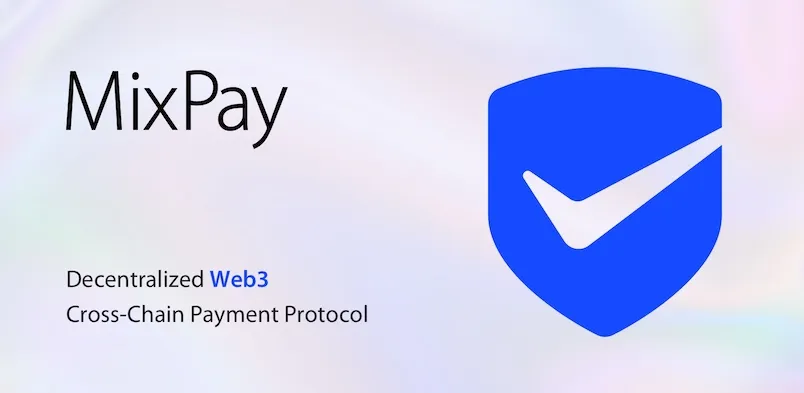 MixPay Protocol is a decentralized payment protocol, which connects different chains, different tokens, different wallets, and exchanges, whether it is an on-chain wallet (MetaMask, Trust Wallet) or a centralized wallet (Blockchain.com, BlockFi), or exchanges (Binance, Coinbase). As long as they access the MixPay Protocol, they can provide their users with safe, simple, and free payment services anywhere in the world marked by MixPay, without merchants needing to care about what wallet or token the customer uses to pay, just like what Visa and Mastercard do in the traditional payment field.